Although the 1920s were a time of opulence and excess, your 1920s party can be wonderful without going overboard. In this post, you'll learn our favorite Great Gatsby party ideas on a budget!
Disclosure: We may recommend products we like through affiliate links. If you make a purchase through links on our site, we may earn a small commission at no cost to you (see our full disclaimer). Thank you for your support!
Table of Contents
🥂 Where to Start
Many modern tricks make it easy to put together a glamorous event, even on a tight budget. We promise you can have an amazing Great Gatsby theme party without breaking the bank!
Focus on starting with simple decorations and food. Layer in more expensive themed accessories for a special touch.
As you compile your guest list, don't forget to share the dress code! If your friends aren't sure how to dress, here's What to Wear to a 1920s Party. This is a special occasion, and your guests will want to come dressed to the nines in their flapper dresses and suits with bow ties.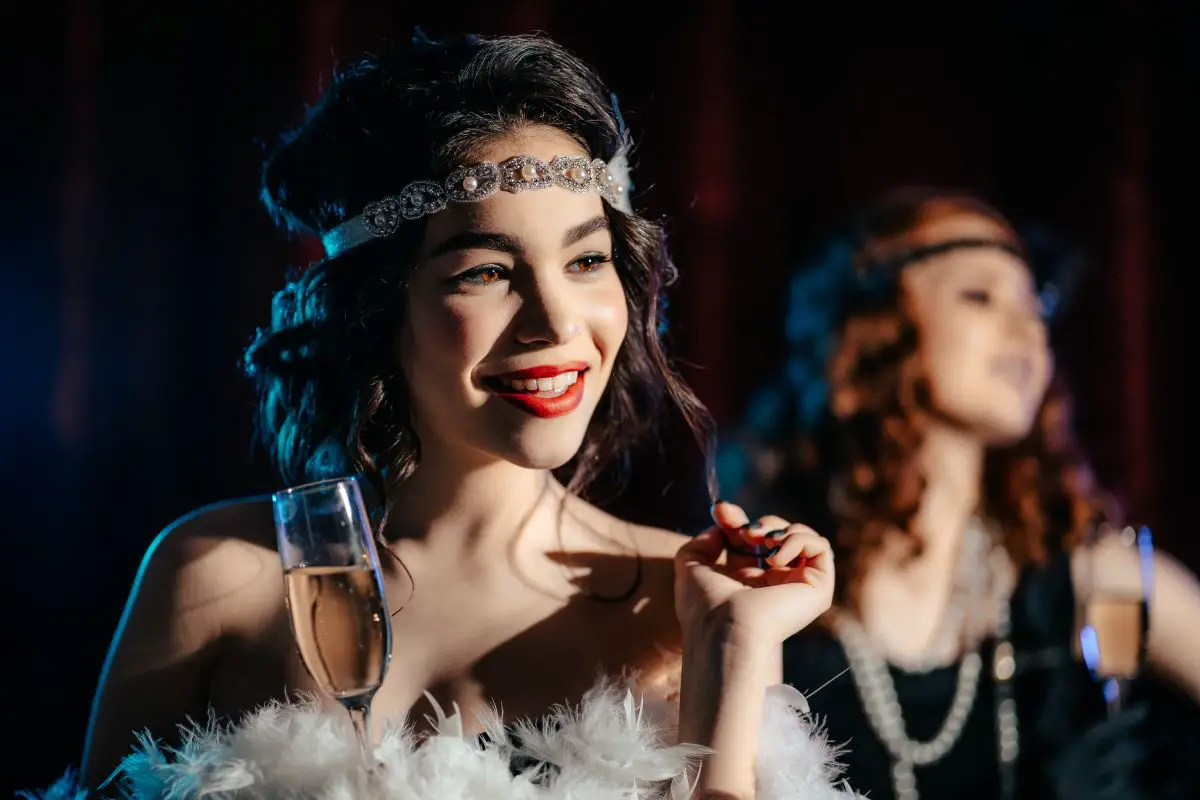 🪶 1920s Party Decorations
If you're throwing your own Great Gatsby party on a budget, opt for a classic color scheme of black and gold with white accents to give your space the feeling of luxury.
This look fits the 1920s art deco aesthetic and will help you buy less expensive decorations.
Black tablecloth
Cover your serving tables with plain black tablecloths. This neutral, formal background shows off the other drinks and snacks you've created.
Gold ribbons
Buy some inexpensive gold ribbon from the dollar store or Hobby Lobby to add a sophisticated touch to candles, chairs, tables, and other display pieces.
White candles
Set up some mood lighting by adding white candles of different heights. Candles can get expensive quickly, so add votives to complement larger candles.
Ask your friends if you can borrow some electric candles, too!
White feathers
Ostrich feathers add a touch of class to your Roaring Twenties party. Create a photo booth area with a tall pillar of white feathers and a gold backdrop.
White balloons
Balloons are an affordable way to add vertical design elements to your space. They'll draw the eye up, giving your venue a feeling of being taller than it actually is.
Gold foil curtains
This adds a little fun and mystery to your party. Invite your guests to walk through the curtain and be transported back in time! These are available at party stores for just a few dollars.
🍾 Great Gatsby Food and Drinks
Skip the caterers and set up grazing stations. Then, you'll be able to ditch the table settings and spend more money on other things.
Charcuterie board
Assemble a charcuterie board with simple snacks your guests can nosh on all night. Think classic appetizers, sliced meats and cheeses, shrimp cocktail, nuts, gherkins and olives, and dried fruits.
Check your local Costco or Sam's Club, as they will likely have the best prices on these items!
Dessert table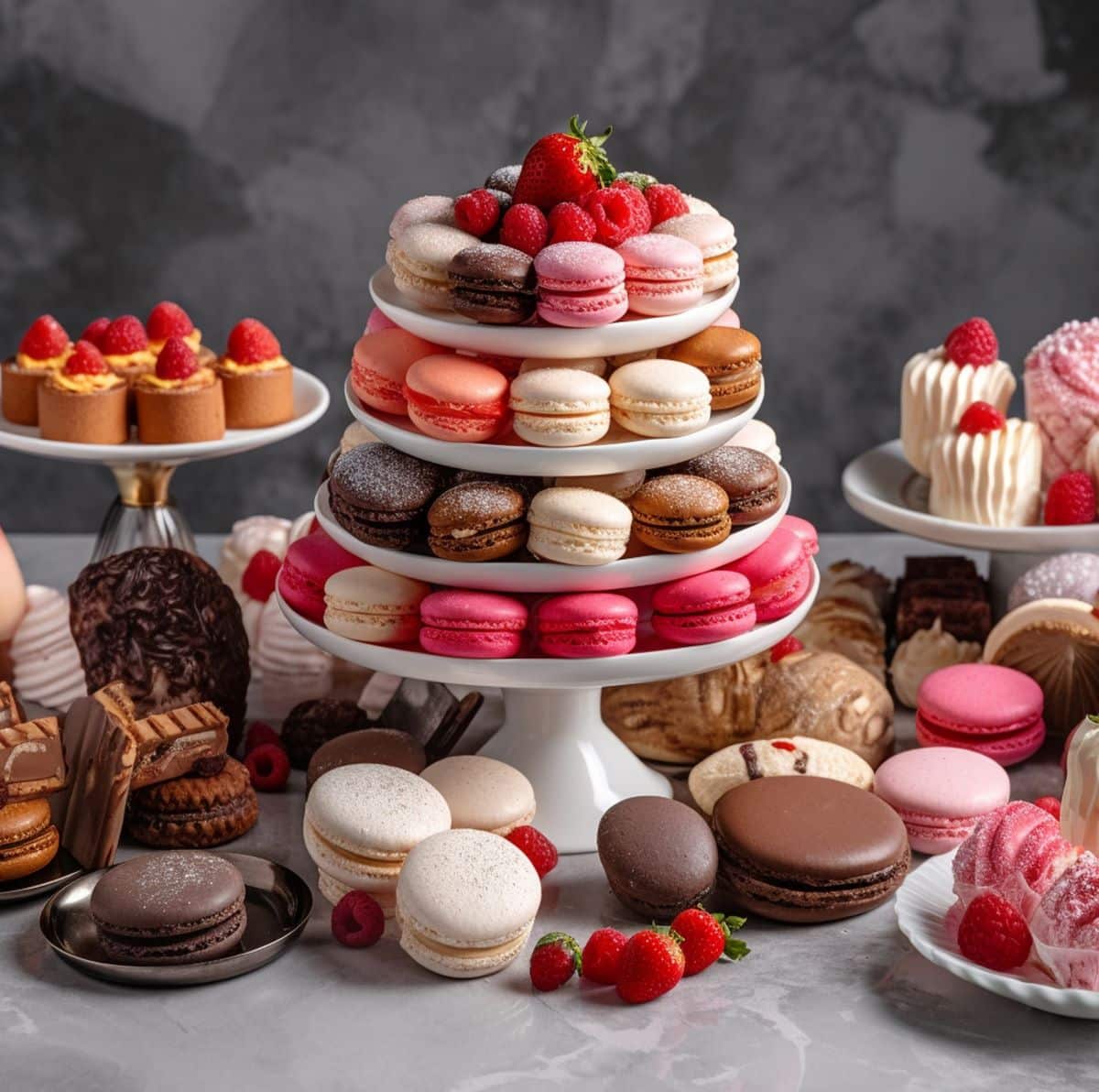 Trader Joes sells delicious treats in their freezer section, like macaroons and mini layer cakes. All you have to do is thaw them and set them up for a fancy-looking display at a low cost.
Set up a candy buffet loaded with hurricane glasses, apothecary jars, and vases full of your favorite candies. You can find a lot of these vessels at Dollar Tree or your local thrift store.
Upgrade a simple cake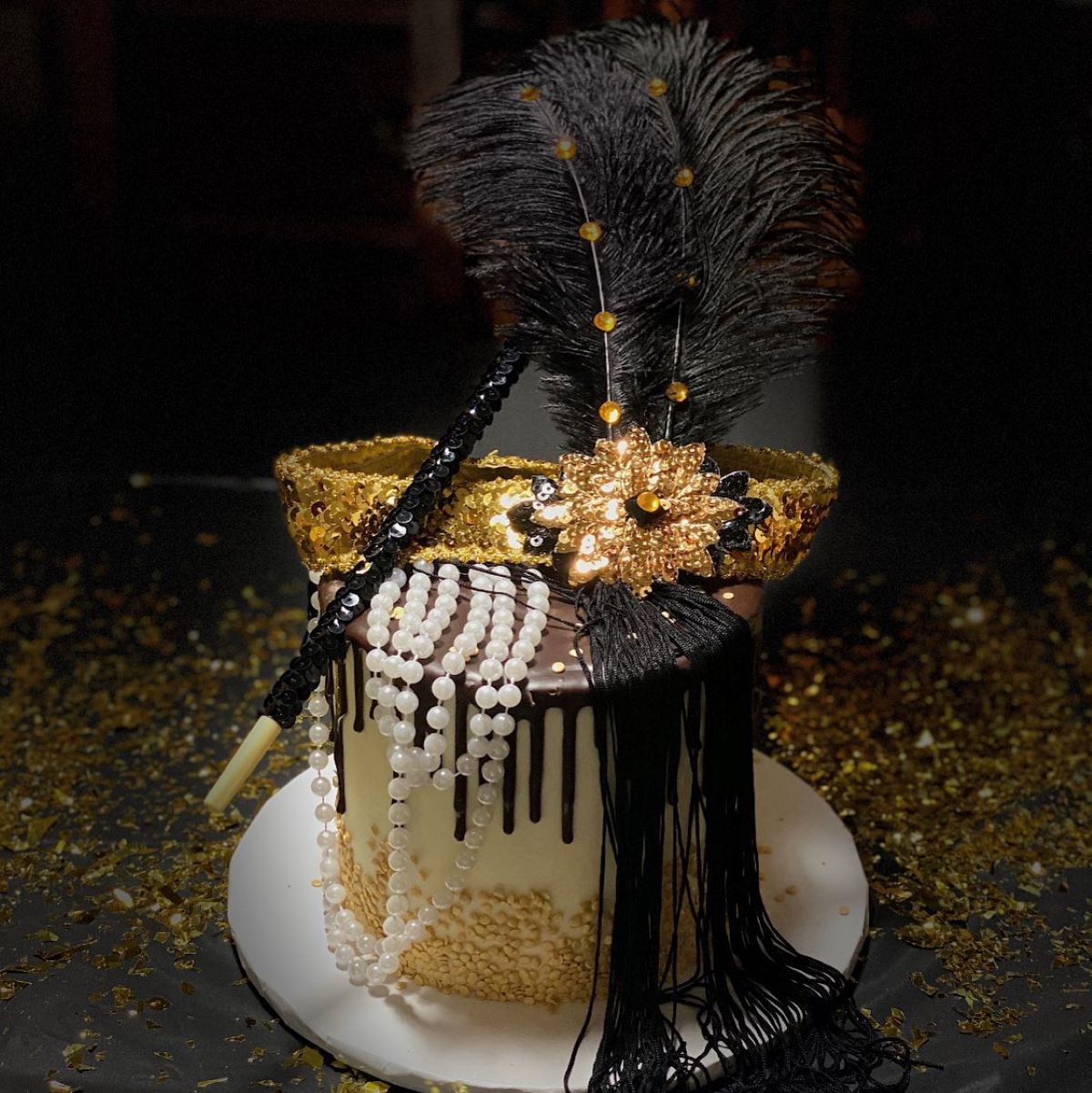 Although I love baking custom cakes, you can turn a simple white cake into something exceptional by adding a few non-edible decorations like gold beads or strings of pearls.
Check out this example of a Roaring Twenties cake I made a few years ago!
Cocktail station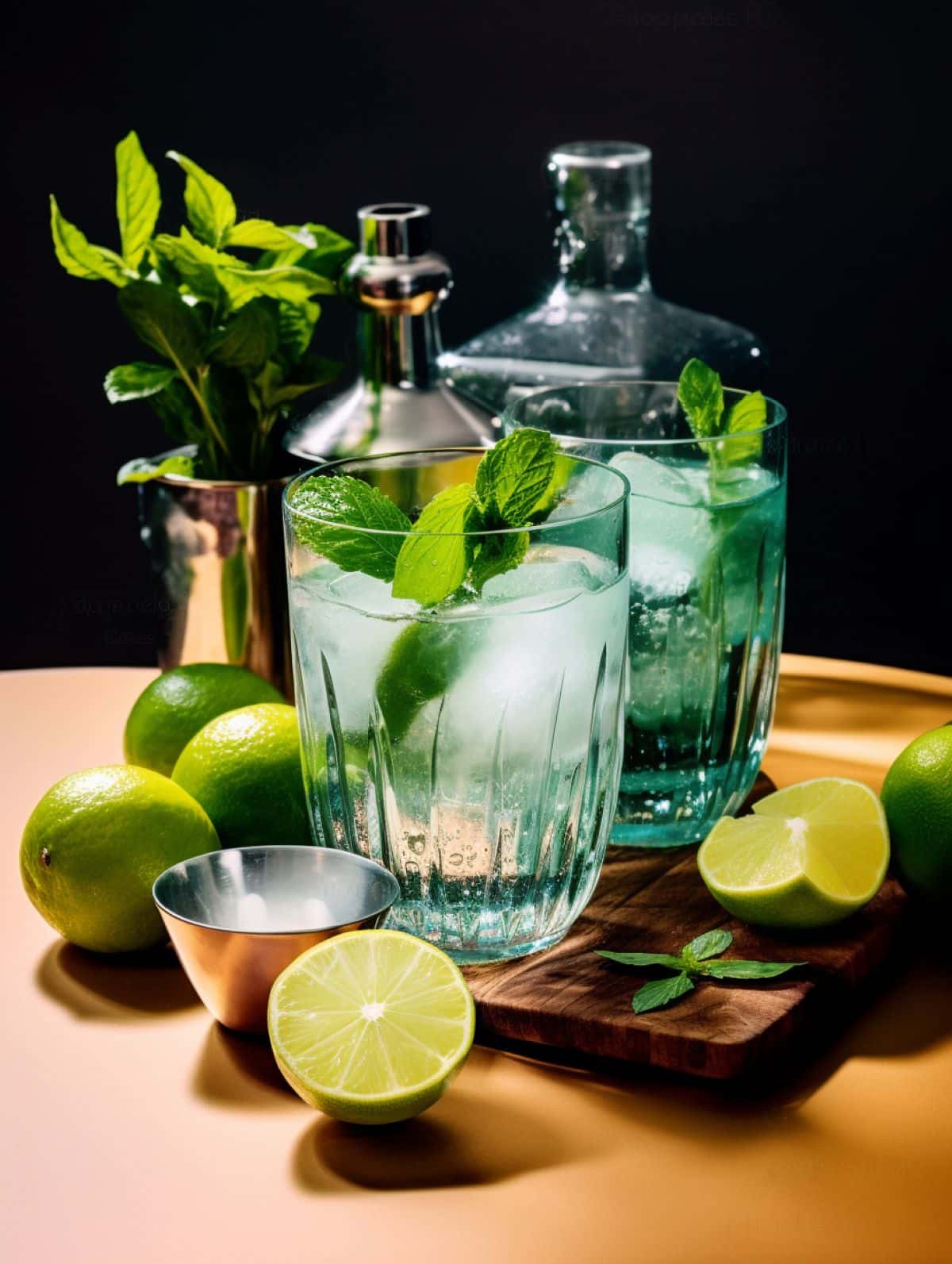 The Jazz Age is the time of Prohibition, so it's only appropriate to have a few illicit drinks. To stick to your budget, choose one classic cocktail or make a spiked lemonade with bourbon or vodka.
Or make a fancy cocktail with a fun name like our Lucy Blue Eyes Blueberry Cocktail or our Diamond and Pearls Blackberry cocktail.
Champagne tower
If fancy glassware isn't in your budget, try stacking affordable cocktail or champagne glasses for a champagne tower. These cheap glasses from Dollar Tree are only $1.25 each!
Or skip the tower and use plastic champagne glasses for easy clean-up!
🎵 1920s Party Music
One of the best Great Gatsby parties ideas on a budget is to stream authentic music online. Pump in some of the most popular jazz singers of the era and clear space for a dance floor!
Duke Ellington
The Duke is The Duke for a reason. Play songs like Take the A Train and It Don't Mean a Thing (If It Ain't Got That Swing). Get everyone dancing with That Lindy Hop!
Louis Armstrong
Armstrong's trumpet and gravelly voice have been delighting listeners for decades. Add Jeepers Creepers and Ain't Misbehavin' to your playlist for the dancers.
Ella Fitzgerald
Ella's songs, especially her duets with Duke and Armstrong, are perfect for the Gatsby party theme! You could play Ella Fitzgerald's greatest hits all night, and everyone would enjoy it.
Great Gatsby Movie Soundtrack
This is a great trick because every song was curated to fit the mood and vibe of the movie. Plus, it's cheaper than hiring a DJ, and the soundtrack has more modern music for a younger audience.
♠️ Game Ideas
Every good party needs games, and a 1920s party is no exception. This event theme is ideal for a casino night with the sound of cards shuffling and dice rolling. Here are a few fun games to play at Gatsby parties!
Card games
Go classic and set up tables with Blackjack. An affordable table cover can make your table look like the real deal.
This classic game is a great way to get your party guests to have a good time.
Dice games
Add in some authentic 1920s dice games like Craps and Twenty-Six, a game played in taverns during the age of Prohibition.
Gatsby Themed Escape Room
We're big fans of playing games with our friends and family. Envy Murder Mystery is a downloadable escape room perfect for Gatsby-themed birthday parties! It comes with everything you need to play, including printable decor.
A Great Gatsby themed party is one of our favorite party themes! They're so much fun and are known for their gorgeous art deco designs and gold color scheme. They're ideal for birthday parties, corporate events, or just spending time with your favorite people.
There are so many ways to put on a great party without overspending. Hopefully, you're inspired and ready to party with these Great Gatsby party ideas on a budget!
If you love themed parties, sign up for our Themed newsletter for tips and tricks to make your next themed party the talk of the town!