If you're dreaming of throwing a pirate party for adults, you're in the right place! We'll break down all the decorations, snacks, games, and more to make your party the best!
Disclosure: We may recommend products we like through affiliate links. If you make a purchase through links on our site, we may earn a small commission at no cost to you (see our full disclaimer). Thank you for your support!
Table of Contents
The pirate party theme is one of the best out there because it's so playful. Everyone knows to come looking like Captain Hook or Captain Jack Sparrow, which is fun in and of itself.
Even better, everyone shows up expecting to have a good time. They're ready to test out pirate slang, play games, and indulge in good food and drinks.
There are many ways to throw a pirate party for adults, so we're sharing the best pirate party ideas. You'll be able to check everything off your party planning checklist!
Pirate Decorations
Set the scene with the perfect Pirate Party decorations! Focus on making your event space look like a tropical island and then scatter in a few specific pirate decorations. This is a great way to decorate inexpensively while still nailing the look.
Black, Red, and White Color Scheme
Keep it classic and simple. Look for inexpensive black balloons, red tablecloths, etc. These colors can be accessorized with the pirate party supplies below.
Palm Trees
Set up palm trees (or borrow your giant house plants) to create a beachy setting. You can make your own paper palm trees or buy these for a tropical look.
Inflatable palm trees would be a fun addition in pictures of your guests in costume.
Pirate Flags
Although it might be challenging to build a pirate ship, pirate flags are easy to hang up around your party area.
Treasure Map
We love this treasure map backdrop for a pirate party.
Fish Net
Did you know you can buy decorative fish netting? It is such a simple way to really tie this pirate theme together!
Beachy Table Settings
Liven up your table settings by adding a little sand and sea shells to the center of your table. Feel free to add little treasure boxes or gold coins to play up the pirate theme.
Food & Drinks
We prefer pirate party food that highlights tropical or grilled flavors. This theme is fantastic for a barbecue, so play it up! Ribs, teriyaki drumsticks, or burgers would be delicious.
Jerk Chicken
This Jamaican specialty is full of delicious island flavors and has that perfect fresh-from-the-grill char. Marinate the chicken in advance and grill it up to get your guests hungry!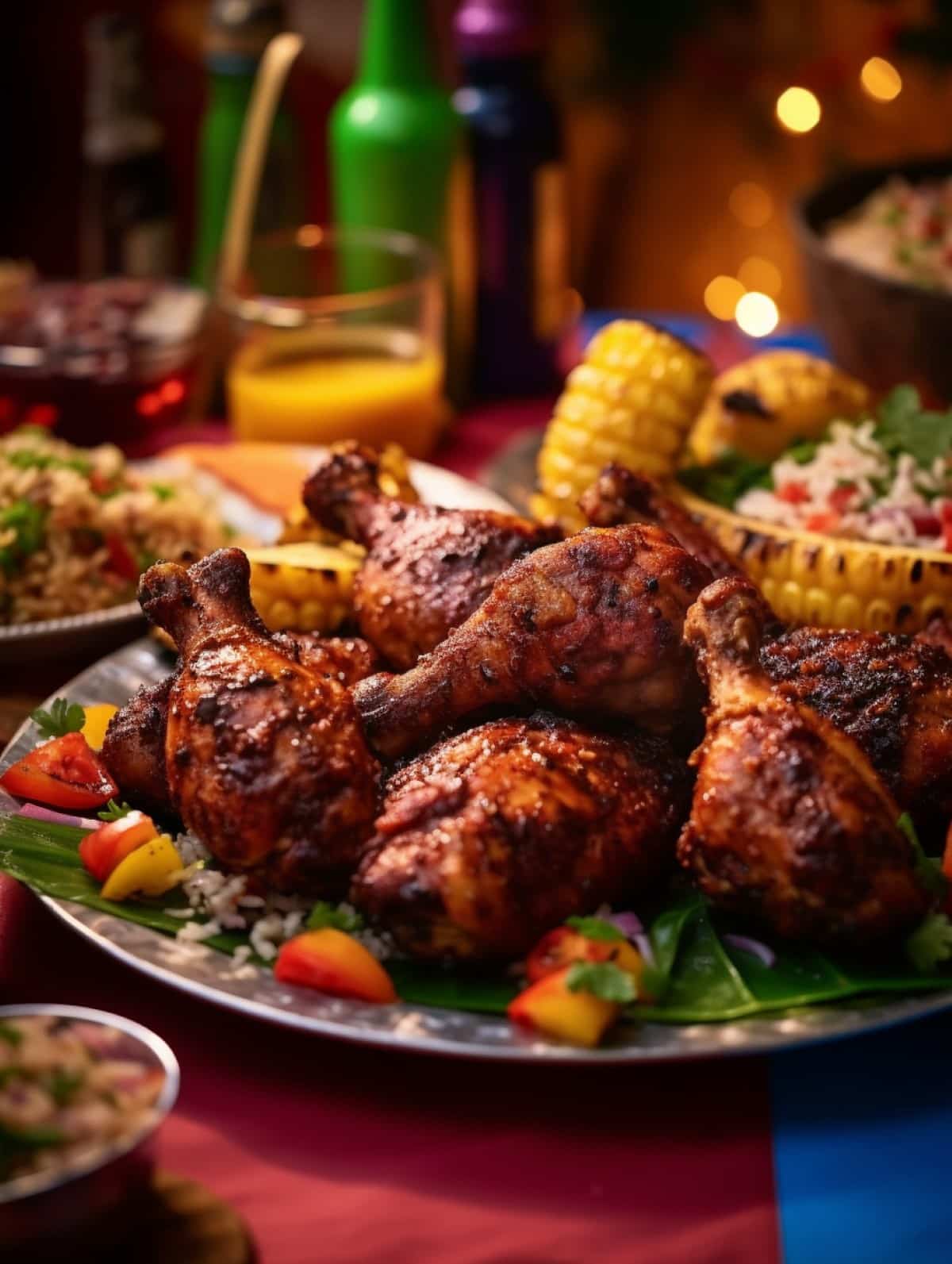 A family-style pirate feast or pot-luck would make an impressive food table.
Grilled Pineapple
Grilled pineapple couldn't be easier to prepare, but it is a crowd-pleaser! Since it tastes like a tropical vacation, it may help your guests unwind and enjoy the party.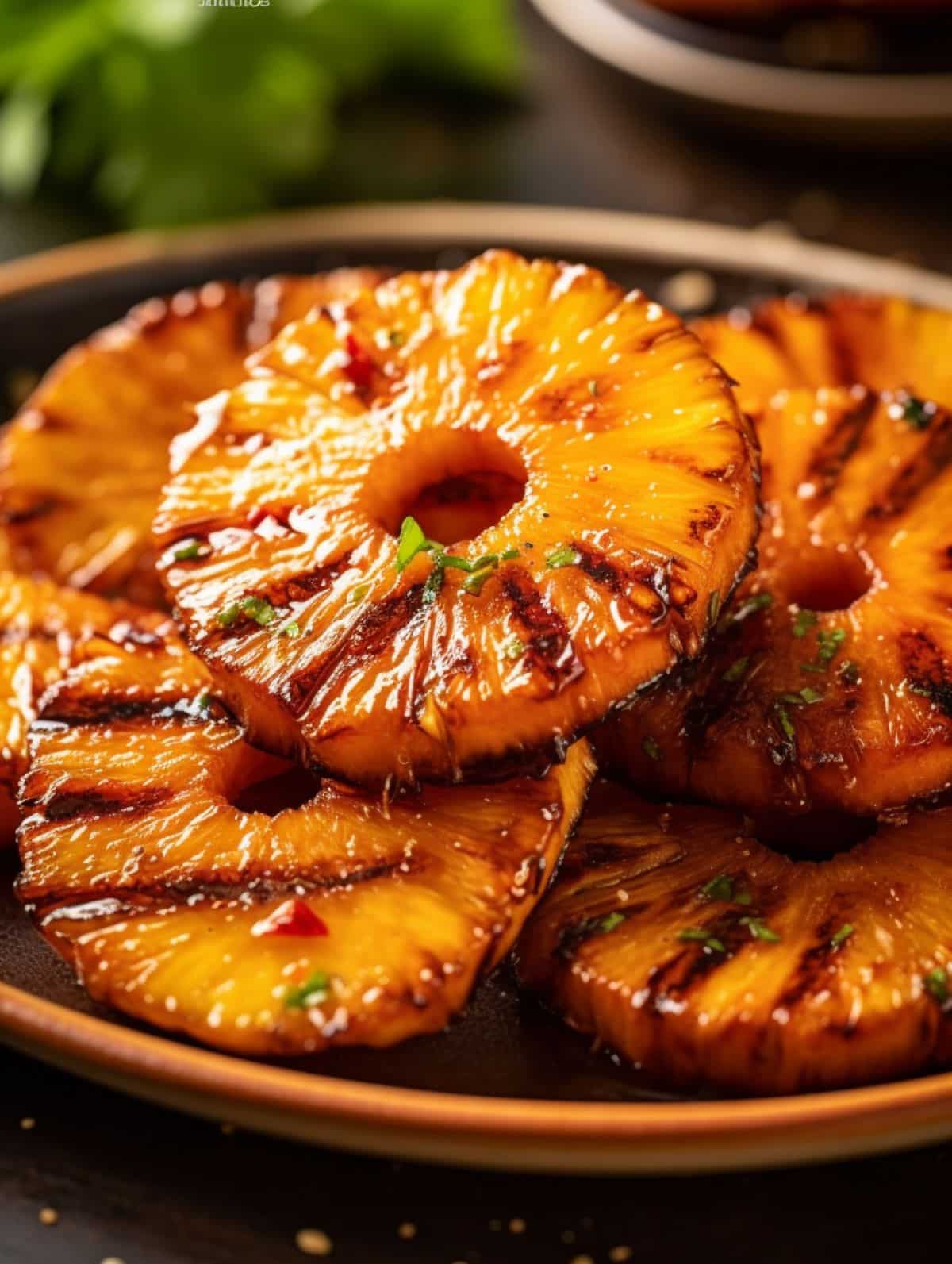 Dessert Table
Have your guests make their own treasure chests with chocolate gold coins, gummy sharks, Swedish fish, candy rocks, and more. This makes snacking an activity on its own!
We love this KitKat treasure chest tutorial from Etsy.
Watermelon Pirate Ship
This pirate fruit ship may take some extra work, but what a fun display!
Get the tutorial from Leaf.tv
Drink Station
Since this is a pirate party for adults, your punch bowl should definitely have some rum in it! Make tropical-themed cocktails like pina coladas or a Jolly Roger!
This inflatable pirate ship cooler will likely make your friends laugh and provide the right hokey ambiance.
Pirate Themed Games
Although many people associate pirate parties with drinking games, there are plenty of ways to have fun with or without the booze! These pirate party games are so much fun! Get some party favors with pirate loot to reward the winners.
Inflatable Sword Fight
I promise you, every adult wants an inflatable sword. They just do. Let your guests have a safe "duel" and give the winner a prize.
Set Up a Treasure Hunt
Part of the fun of being a pirate is searching the high seas for booty. Set up a scavenger hunt around your party space to help your party guests find the treasure chest.
These 6" tall cloth pirate goodie bags might fit some adult-friendly treasures like:
mini bottles of alcohol
candy
This unique pirate-themed shot glass set is the perfect grand prize for your treasure hunt.
Make a Plank
Set up a giant plank as a balance beam over a kiddie pool full of water, and have your guests take time "walking the plank." This is so much fun, and it gets way harder after a few bottles o' rum!
Bean Bag Toss
We love this little pirate map bean bag toss! It's more challenging than it looks, and you can amp up the pressure by having your party guests play in teams.
Murder Mystery Game
The first pirate party we ever threw was a murder mystery! This pirate-themed murder mystery game can be played with up to 10 participants!
Music
Although it might be a bit much to listen to "yo, ho, ho and a bottle o' rum for hours, there are plenty of great music choices for your pirate party for adults!
Pirates of the Caribbean Soundtrack
This is an excellent option because not only will your guests recognize it from the movies, but every song will surely be on theme.
Pirate Party Mixes
There are some excellent pirate party music lists on YouTube! Either play one on repeat or make your own playlist with your favorite selections.
Pirate Costumes
There's no fighting it - you have to embrace the cheesy pirate costumes when you host a pirate party for adults!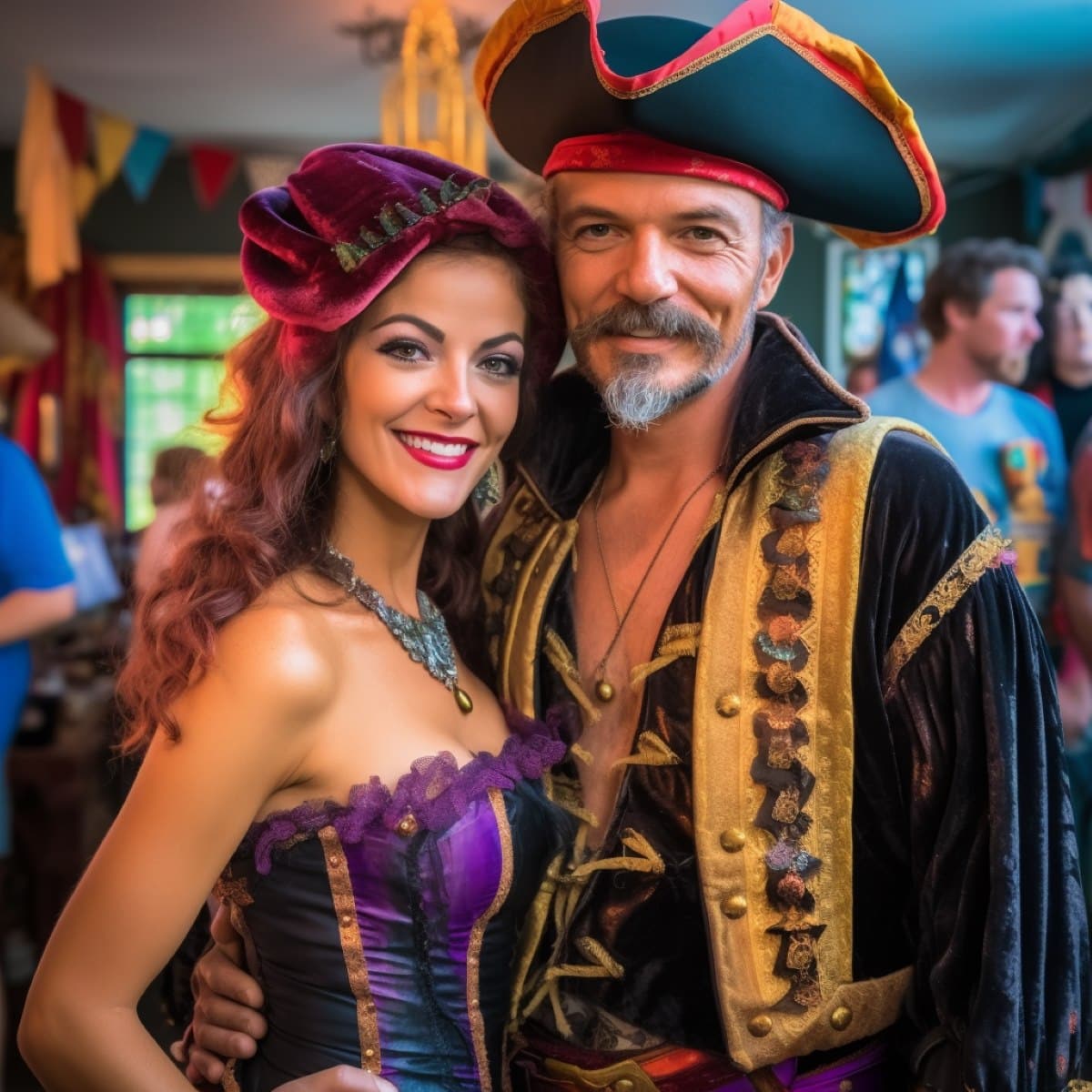 Pirate Costumes for Men
Think lace-up long-sleeved shirts, long overcoats, three-pointed hats, vests, and tall boots. Keep it simple with a pirate-themed t-shirt, or go all out to look like you came from the set of a movie.
Pirate Costumes for Women
There's a little more flexibility here. Most pirate costumes for women have a knee-length skirt with a billowy blouse and a corset. Don't forget the tall boots!
Accessories
Cue the eye patches, swords, pirate hats, hooks, parrots, and more. Set up a table near your entrance with temporary tattoos to help take this party to the next level.
Invitations
No party is complete without invitations! Although it's easy to shoot off a text, we love sending out custom pirate party invitations to set the mood.
Message in a Bottle Invitations
These treasure map invitations are so cute and would be easy to customize. Drop them in the mail to invite your friends the old-fashioned way.
Or use roll-up pirate invitations and stuff them into these glass bottles for a true message-in-a-bottle experience!
Did you find everything you need for your pirate theme party? Be sure to save your decorations because your kids will want to have their own pirate party after you!
If you love themed parties, sign up for our newsletter to get all the tips and inspiration you need for amazing parties every time! Or check out our favorite parties on Pinterest.