Recreate the magic of a night at the cinema at your own home or party venue with a movie night party! Whether you're looking to uplevel your usual movie night or host the perfect movie birthday party, these movie night party ideas will inspire you to plan a fun night of celebrating your favorite movies.
Disclosure: We may recommend products we like through affiliate links. If you make a purchase through links on our site, we may earn a small commission at no cost to you (see our full disclaimer). Thank you for your support!
Table of Contents
Movie ideas
Some movies are better for a movie party than others. If you have a favorite you've always wanted to host a watch party for, go with that. But if you need some inspiration, here are our ideas for what to watch at your movie night party:
For kids:
Disney and Pixar classics
Shrek
Wallace & Gromit movies
Tim Burton movies
Kung Fu Panda
For adults: 
The Room: This is a great film for a night of laughter and silly games
Live-action Scooby Doo movies
Knives Out and/or Glass Onion
Clue (1985)
Rocky Horror Picture Show
Forrest Gump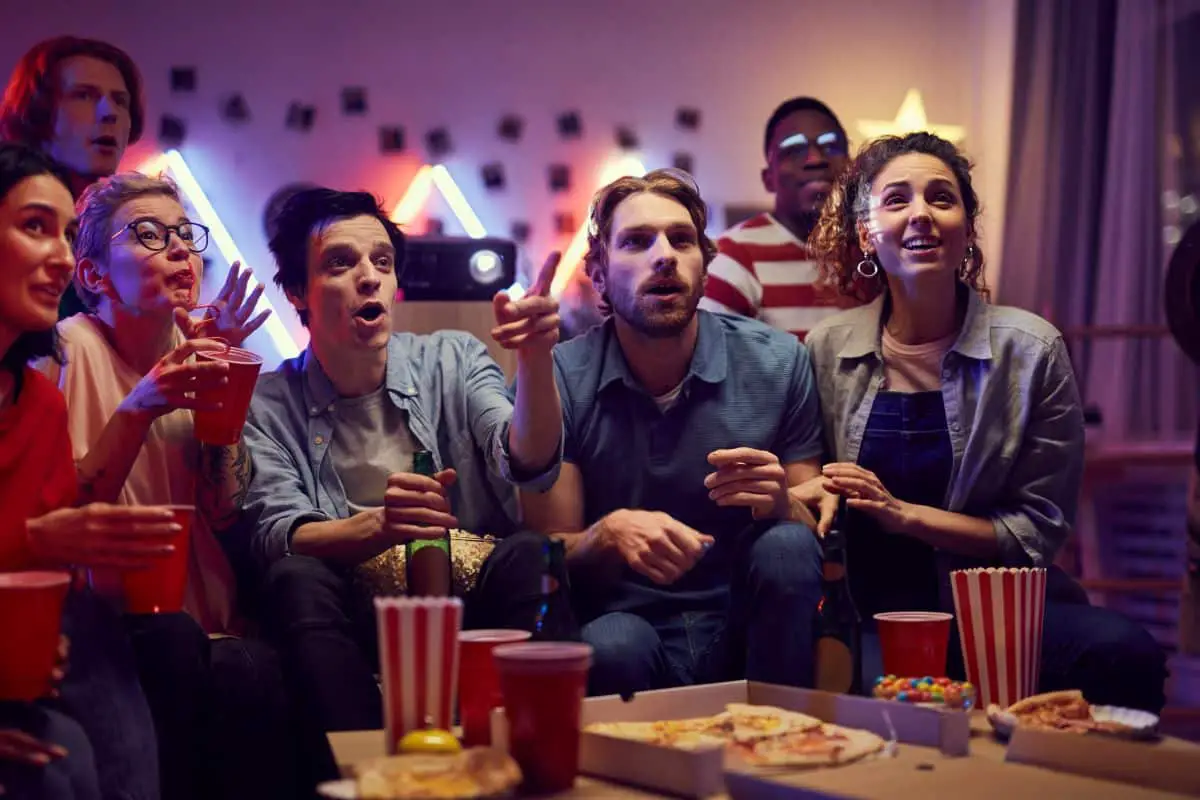 Movie Night Invitations
Design your movie invitations to look like movie posters or admission tickets. You can find templates or design your own tickets with Canva.
Or, if you plan to choose a specific genre or film for your movie night party theme, use that to inspire your invitation design.
Theme Ideas
Fun theme ideas include:
Classic Horror Movies
Early 2000s Rom-Coms like How to Lose a Guy in 10 Days, 13 Going on 30, Love Actually, and Bridget Jones's Diary
Comic Book Movies (like Marvel or DC)
Murder Mysteries
Cult Classics
Movie Night set up
You don't need an in-home movie theater or even white walls to host the perfect movie party. A projector and a screen or white bedsheet will do.
To have an outdoor movie night, all you need are an outdoor movie projector, a white sheet, a spacious seating area with plenty of lawn chairs or picnic blankets, and plenty of blankets to keep guests warm.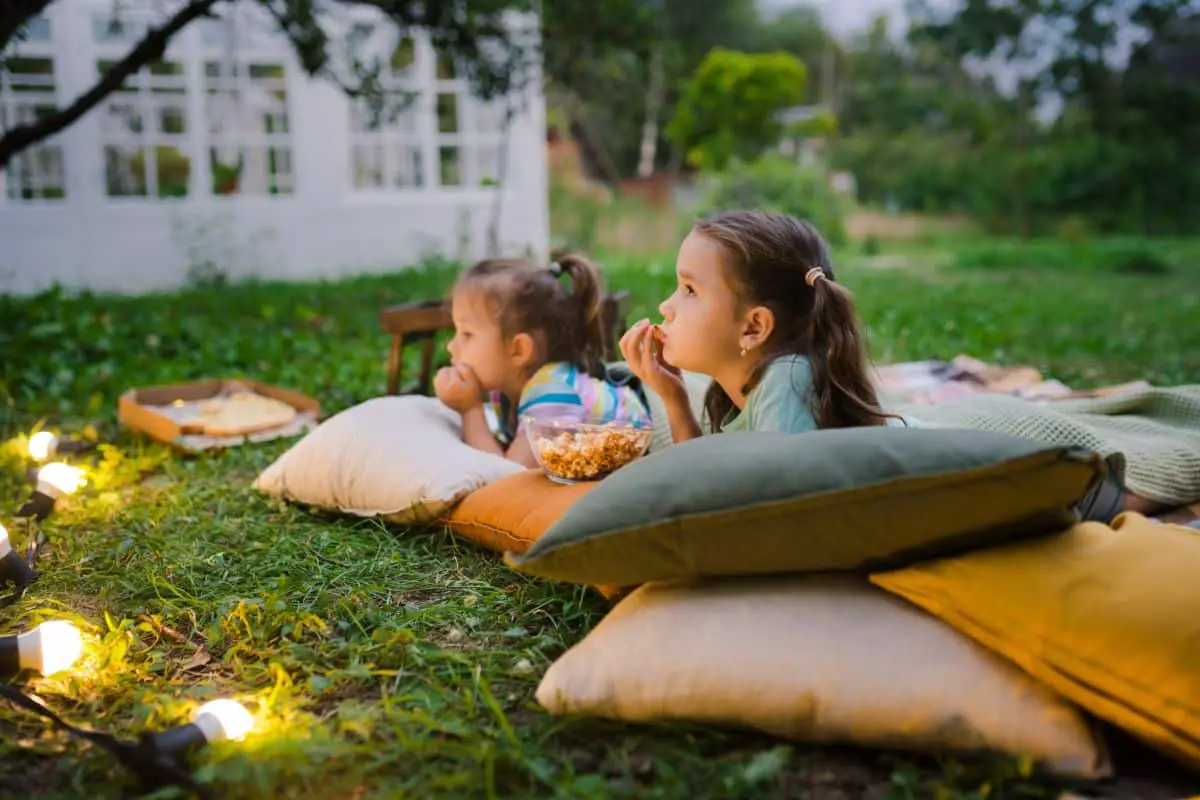 Kids can also bring their own sleeping bags for indoor or outdoor movie nights.  If you don't have a yard or living room large enough for a party, you can rent out a movie theater or outdoor movie space. Peerspace is a great place to find movie party venues.
Movie Party Decorations
When giving your favorite movies the big-screen treatment, you'll want your theater space to look the part. Put up a marquee sign made of poster board, lay down a red carpet entrance with red velvet rope dividers, and include a photo booth to set the scene and make every party guest feel like a movie star.
Your movie party supplies may also include disposable cameras, photo props, Oscar statues, and lots of cardboard stars. 
As with the invitations, your party decorations can change depending on the specific movie party theme. If you're showing rom-com, you can decorate with flowers and wedding decor.
For a horror movie night, use Halloween and haunted house decorations. You can find a lot of movie-specific decorations at party stores, especially for animated films.
Food & Drinks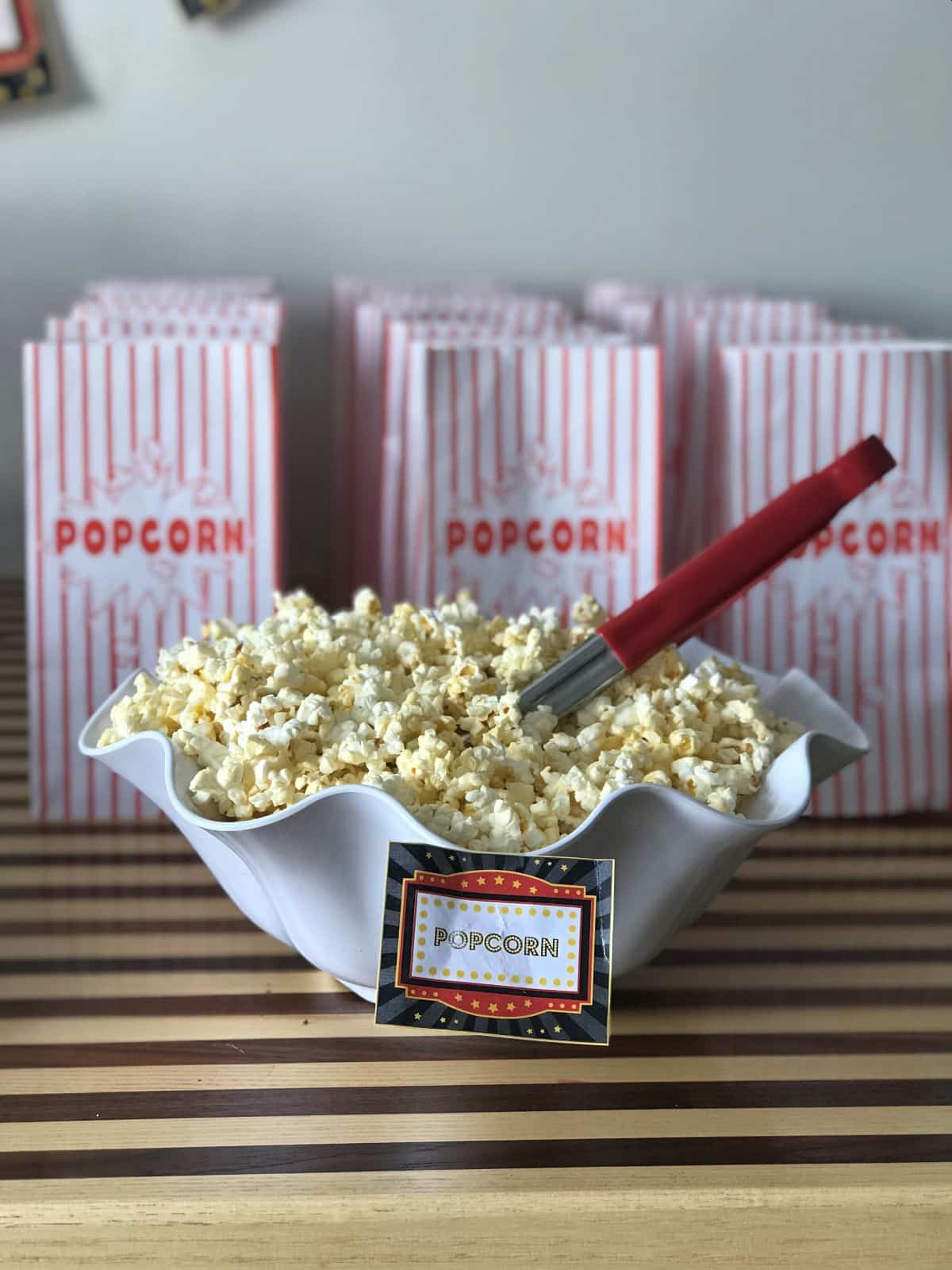 Sometimes snacks are the best part of going to the movie theaters, so you'll need to make sure your party snack game is strong. For the perfect movie night party, stock your snack bar with all of the delights you'd find at the theater.
Be sure to offer classic candies like Red Vines, Nerds, Snowcaps, and M&M's. You can find movie theater box candy like these at Dollar Tree.
On the savory side, hot dogs, soft pretzels, and nachos are the perfect movie snacks.
Of course, it's not movie night without popcorn, so fire up your popcorn maker or rent a popcorn machine, grab some cute popcorn bags, and set up a popcorn bar with a variety of seasonings for guests to choose from.
For beverages, serve homemade Italian cream soda, pink lemonade, gourmet bottled sodas, or root beer floats.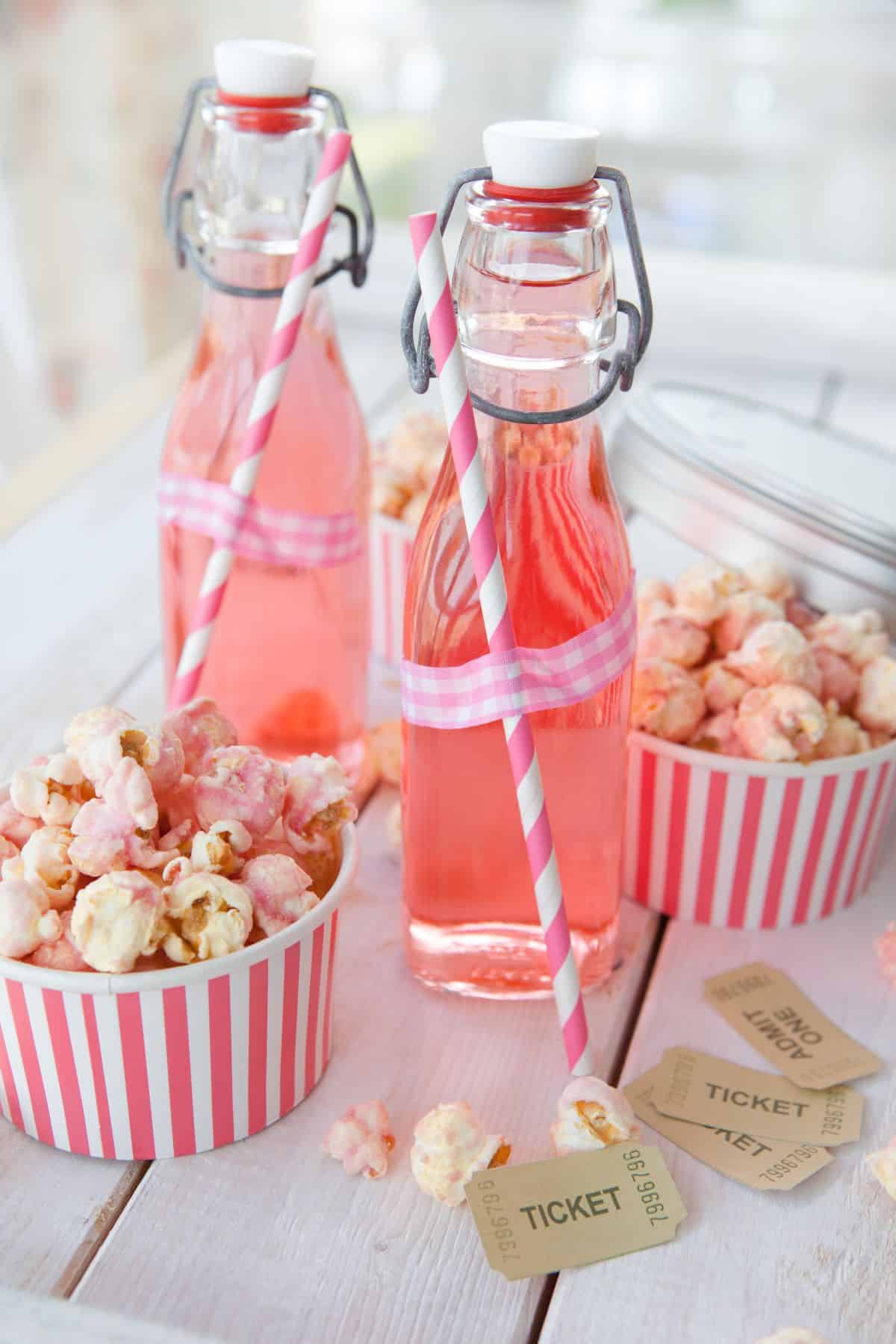 Dessert popcorn makes an extra special treat that will fit right in on your movie party dessert table.
Movie Themed Games
The movie will be the main event, but every party should include some fun games.
Trivia
Of course, movie trivia is a great party game for movie night. To host movie trivia, divide guests into trivia teams, or have everyone participate individually. Narrow the trivia game down to a specific theme, production company, genre, or decade.
You can find trivia questions to use online. For prizes, offer specialty candy, movie posters, and Oscars with the guests' names on them.
Improv Games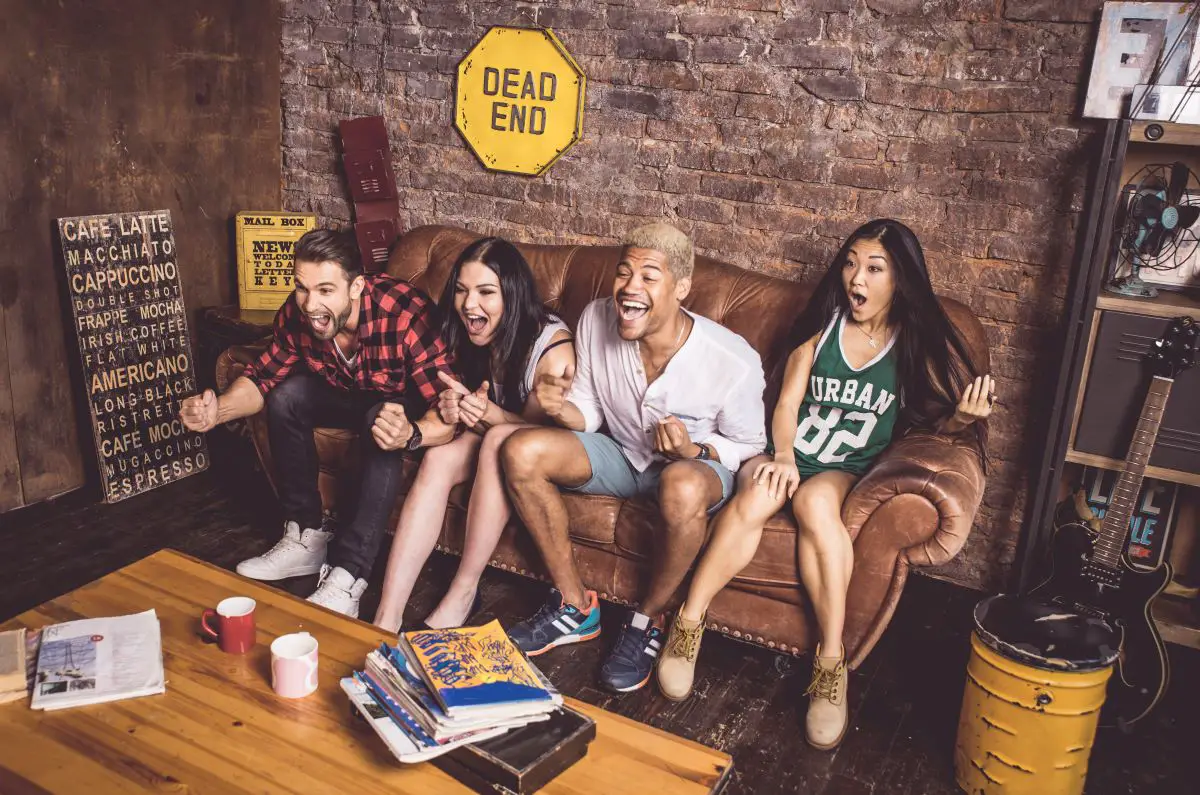 Charades and various improv games work for party guests of all ages. Here are some of our favorite improv games:
The Dating Game
Press Conference 
What are You Doing?
Party Quirks
Lines from a Hat
Prop Bag
Questions Only
Sit, Stand, and Lie Down
For Adults
For adult movie parties, search Google for movie-specific drinking games, or make up your own.
You can also draw inspiration from Rocky Horror-style audience participation games.
Now you're ready to grab the popcorn and candy and invite your friends to a night of cozy nostalgia! You'll host the perfect movie night for any occasion and age group with these movie party ideas.