Are you dreaming up an unforgettable party or looking for birthday party ideas? You've landed on the right party planning blog!
We hope our "Notes on a Party" will become your go-to source for everything related to hosting fantastic get-togethers!
Let's walk you through the basics of event planning, step by step--print out our free party planning printable guide at the end of this post!
Table of Contents
1. Pick a Theme
Start with a fun theme. It could be anything from 'Twinkle Twinkle Little Star' to 'Spooky Halloween.' It's your party!
The party theme sets the vibe. It will help you decide on decorations, party goodies, and even food. Browse our blog posts for party inspiration.
More Party Themes
2. Plan Your Budget
No need to break the bank. Set your budget early on.
This smart party planning tip will help you avoid overspending.
3. Fix a Date and Time
When's the party? Pick a date and time that suits most of your guests.
If it's a kids' party, don't forget their nap or bedtimes. You want them full of energy!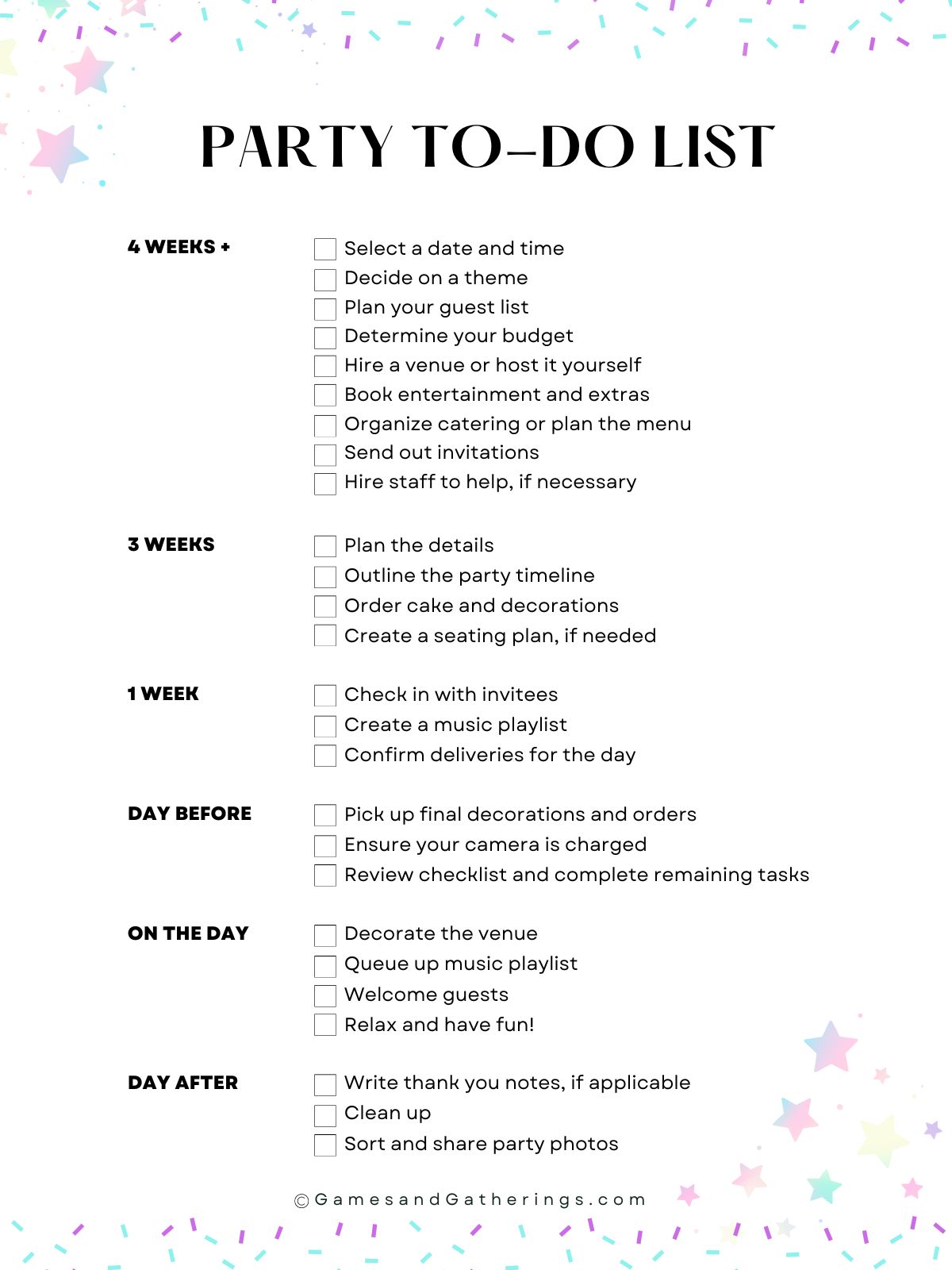 4. Make a Guest List
Who do you want at your party? Write 'em down.
Your guest list helps decide how much food, drink, and space you need. And yes, it impacts your budget, too!
5. Whip Up a Menu
Delicious food is a must at any event or little party. Our party ideas blog has loads of recipes that you can match to your theme.
Remember to consider dietary needs and allergies. Everyone should have something yummy to munch on.
6. Plan Fun Activities
Keep your guests entertained and plan some fun activities. Games, music, or a DIY photo booth could be fun.
Tailor your activities to suit your audience. Think of your guests and what they'll enjoy.
7. Get Decorating
Creative decorations make your party pop!
Use your theme to guide your decorations and event design.
8. Send Out Invites
Let people know about your party. Send out creative invites that match your theme.  For casual parties, 2-4 weeks is usually enough notice.  
You can go for classic paper invites or digital ones, just remember to include all the party details.
9. Map Out the Day
A timeline helps your party flow smoothly. Jot down when guests will arrive, when to serve food, and when the activities will happen.
This plan can help you avoid chaos. Trust me, you'll thank yourself later.
10. Last-minute Checks
About a week before the party, confirm who's coming.
Also, double-check your arrangements. You've got this!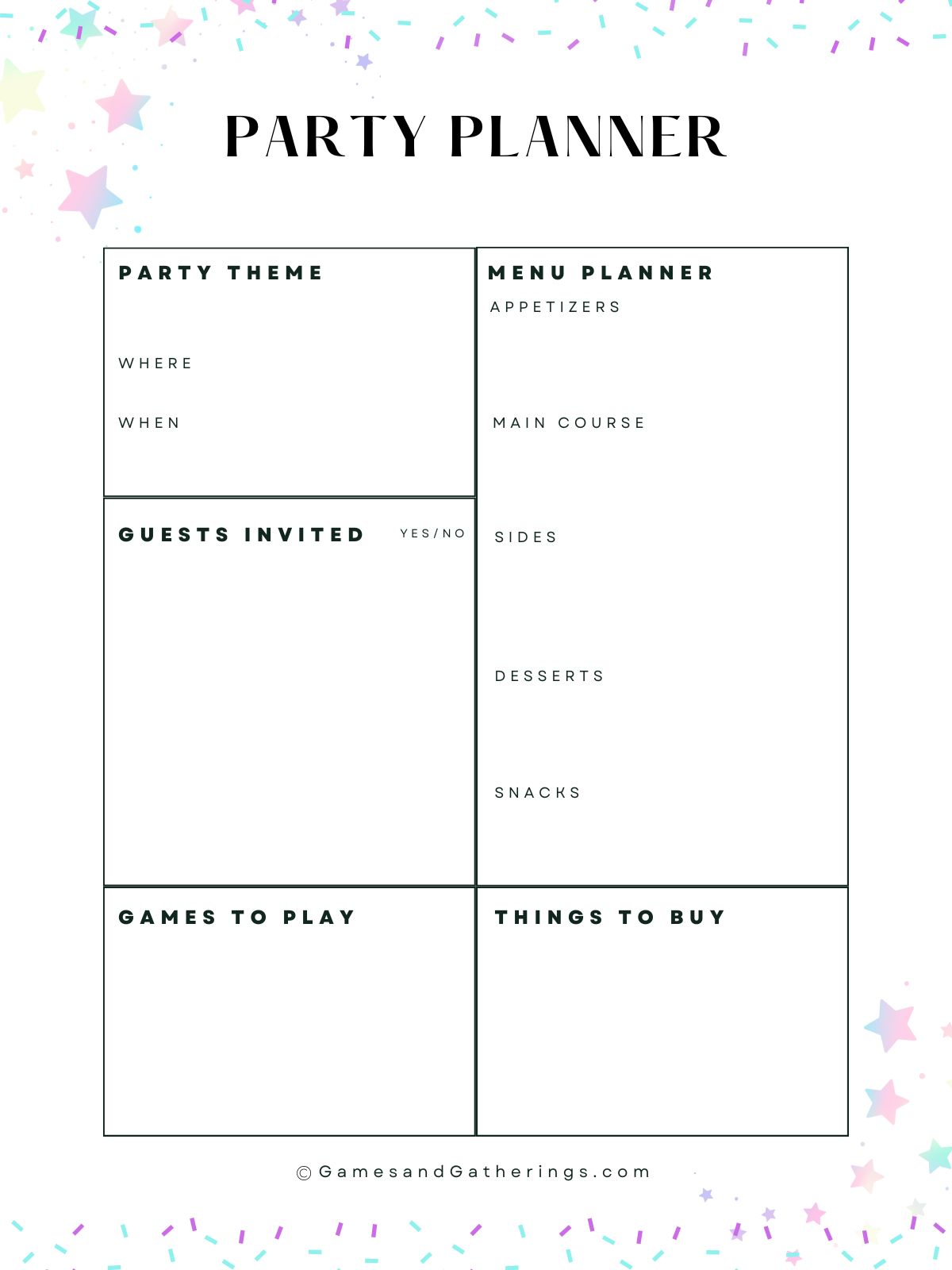 11. Set Up and Enjoy Your Party!
On the day, start setting up early.
And remember, once the party starts, your job is to enjoy! Have as much fun as your guests.
Your party is your canvas, so let your imagination run wild! Whether it's a first birthday, a baby shower, a bridal shower or a themed bash, a good party comes from planning, creativity, and having fun.
🖨️ Free Printables
Follow the directions below to easily download and print these freebies.
Free Printable Party Planning Guide
*Free printables from Games and Gatherings are for personal, non-commercial use only. See our FAQ page for more details.*
If you enjoyed this content, please consider rating it or sharing it! We welcome the use of one of these images with visible credit to Games and Gatherings and a direct link to the article. We appreciate your support.
⬇️ Click to Download
Did you like these freebies? Your ratings encourage us to keep creating free content!
Please rate below! 👇
Other Party Planning Tips
If you've found our party blog, we know you must love entertaining. We want to help make throwing the ultimate party in your home a breeze, without breaking the bank or losing your sanity.
BE A "LAZY" HOSTESS OR HOST
Our blog is packed with helpful tips, tricks, and ideas to transform you into your own personal event planner. We cover everything from choosing a theme to crafting the perfect party menu.
Plus, we've got you covered with the latest party trends and must-have party supplies!
Hosting a party should be just as enjoyable for you as it is for your guests. That's why we focus on sharing stress-free party planning techniques and budget-friendly tips to help you pull off an unforgettable event.
---
The two party blogs Notes on a Party and Games and Gatherings became one in 2023. You may know Notes on a Party as a party-planning blog dedicated to the art of entertaining, and it fits perfectly with the games and get-togethers we share on this website.
Notes on a Party originated as an online magazine created by the party planner Celia Chen, in New York. She was known as "The Lazy Hostess."
Our party planning blog is here to inspire and guide you every step of the way.
So, whether you're planning a chic cocktail party, a lively birthday bash, or an intimate dinner with friends, you've come to the right place. Explore our blog, get inspired, and discover the joy of hosting fabulous parties right in the comfort of your own home. Happy planning!
More Party Ideas