It may be your little girl's dream to step into a magical world filled with tutus, ballet slippers, and enchanting music. Well, we want you to enjoy it just as much as she does with our top Ballet Party Ideas!
Disclosure: We may recommend products we like through affiliate links. If you make a purchase through links on our site, we may earn a small commission at no cost to you (see our full disclaimer). Thank you for your support!
Table of Contents
Celebrate her beauty and grace with a ballerina party. Whether it's your baby's first birthday or your little girl's fifth, a ballet birthday party theme will make for an elegant event.
Little dancers will love a chance to twirl in tutus, and even parents can have fun getting fancy for this prim and proper party. These ballet party ideas will help you plan a perfectly pink ballerina-themed party for the birthday girl.
Invitations 🩰
Delight your guests before the party even begins with lovely invitations for your ballerina party. There are lots of directions you can go with the ballet party theme, so have fun with it! Here are our favorite ideas:
Ballet Slippers
A simple blush pink invitation with gold lettering will work for any ballerina birthday party, as will ballet slipper-shaped invitations.
Ballet Theatre
Consider designs that highlight the beauty of the American Ballet Theatre, featuring elements like tutus, ballet shoes, or dancers in classic ballet poses.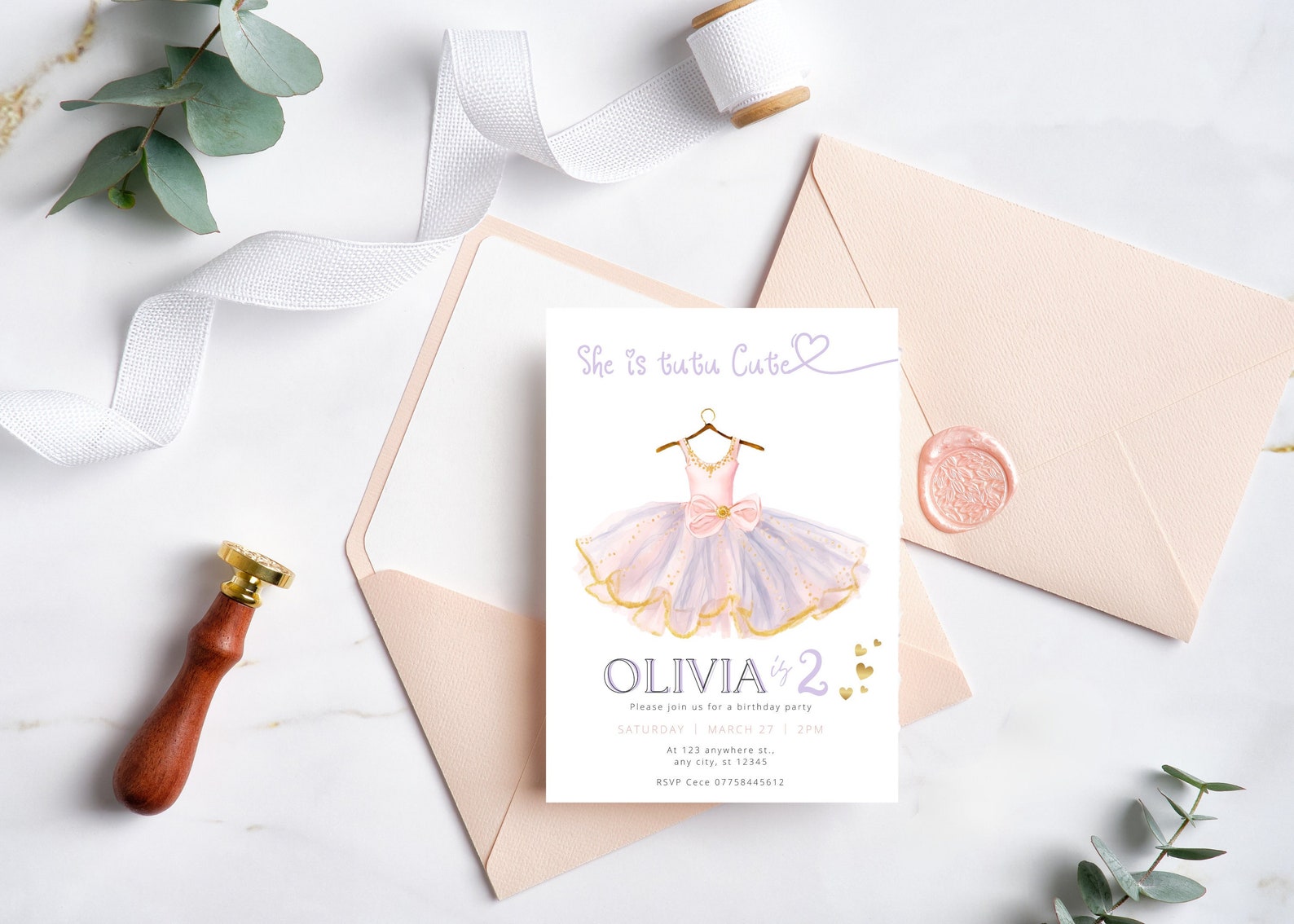 Swan Lake Inspired
For a more specific ballet theme, we adore these Swan Lake-inspired invitations: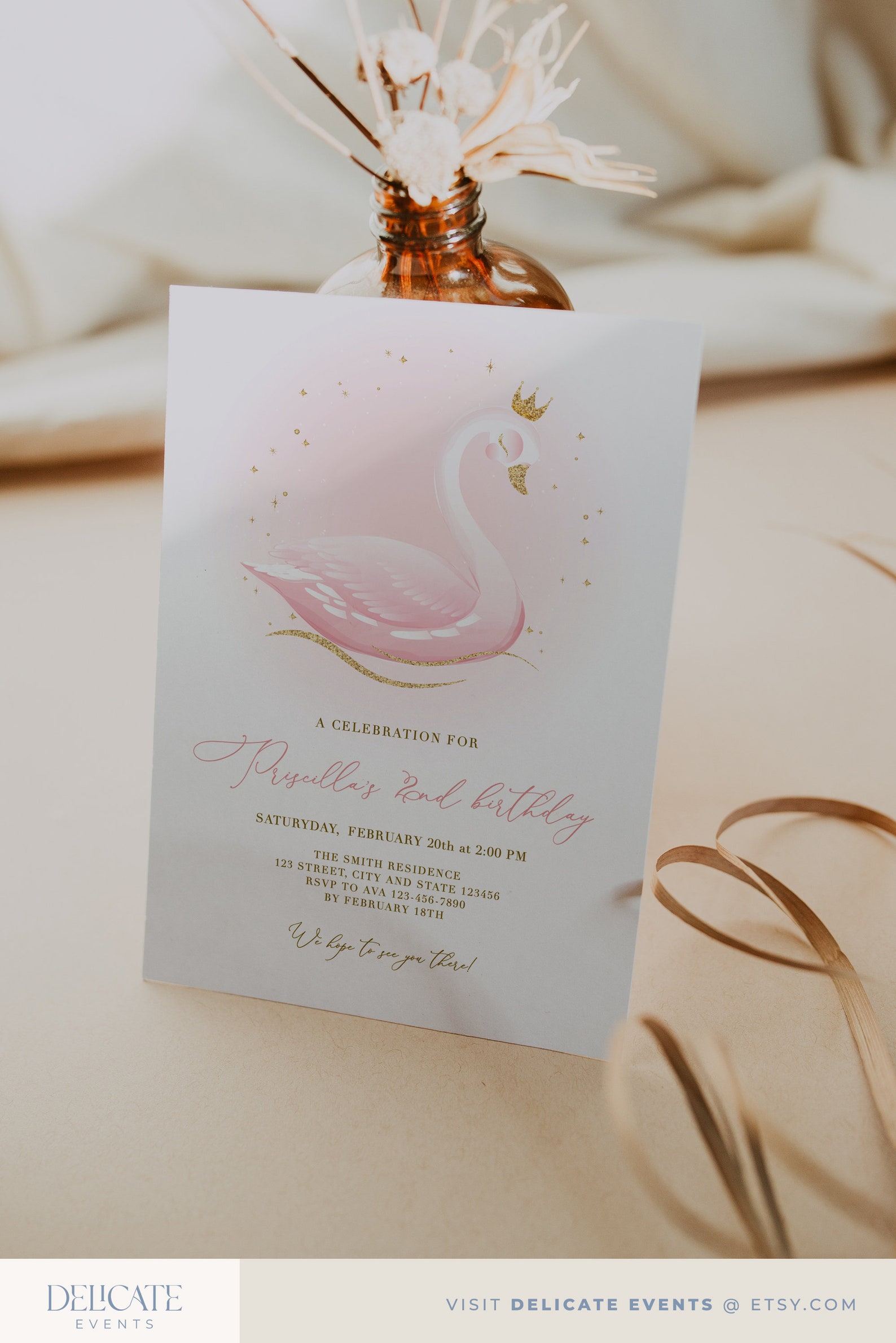 The Nutcracker Theme
If you have a December baby, this is the perfect opportunity to celebrate the most famous ballet of all with a Nutcracker party theme.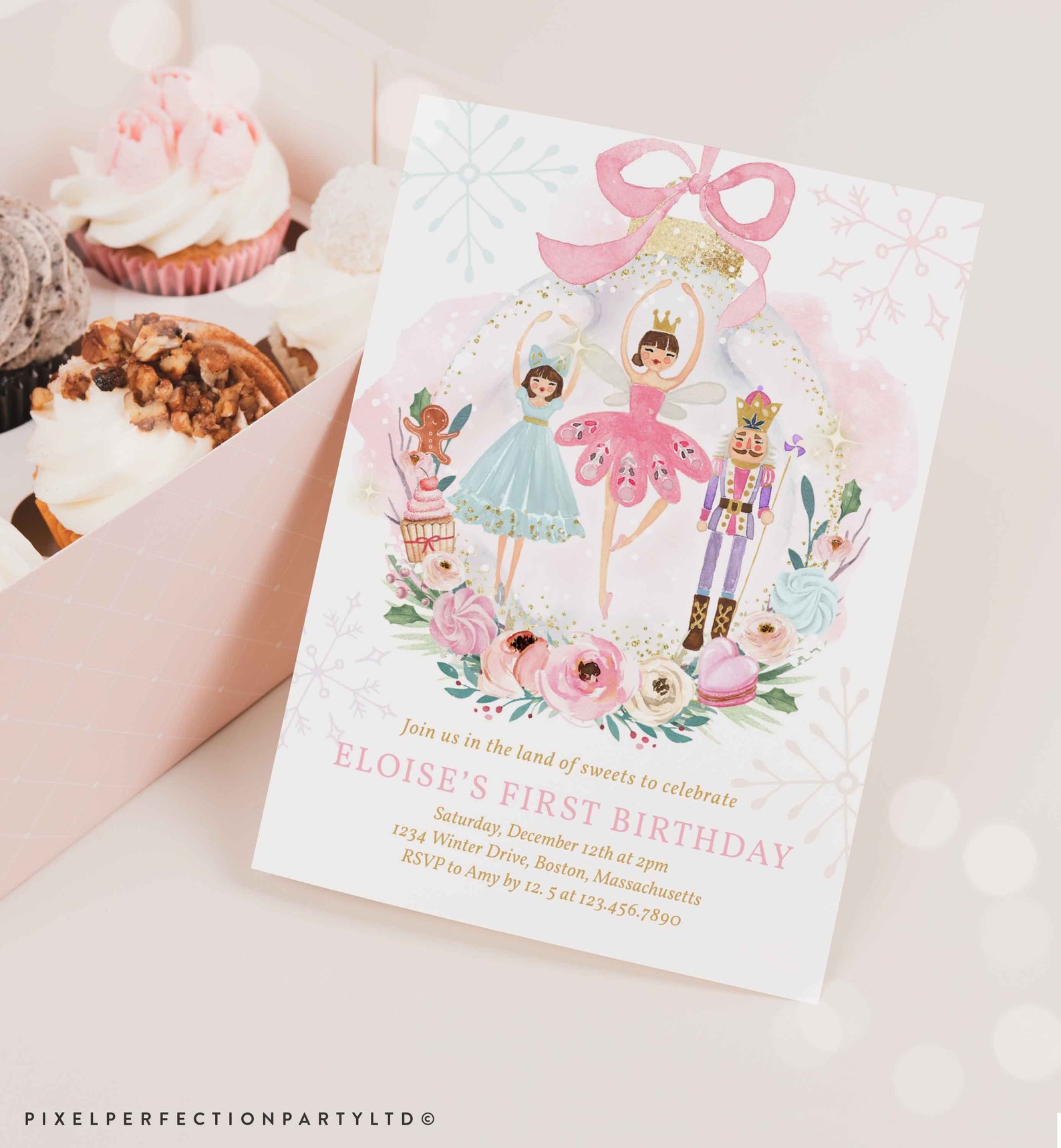 Remind your Guests
Suggest in the invitations that the little ones wear ballet attire like cute tutus and leotards. Alternatively, you can provide the little girls with tutus when they arrive, like the one pictured below!
Ballet Party Decorations
Decorate your ballerina party to match the theme you chose for the invitations. Here are our decoration ideas for a general ballerina party, a Swan Lake party theme, and a Christmas-time Nutcracker party. When in doubt, go with pink!
Basic Ballerina Party
These decorations can be the foundation for any ballerina party. Start with light pink party supplies and gold or rose gold accents, which will work for all ballet parties.
from Pretty Please Design
Pompoms and Garland
Then create tulle pom-poms and drape everything with pink streamers that look just like the ribbons on ballet shoes. Finally, fill the party room with pink and gold balloons, give all the girls a tutu, and add a ballerina garland for the finishing touch.

Ballerina Garland
Pink Tulle
Ballet studios have an elegant and graceful feel. Soft pinks and white will always be a great hit, as well as lots of tulle.
Set the Stange
A faux ballet barre, mirrors, and a 'stage' for dancing performances will be fun for the kids and really transform your space.
Swan Lake Ballerina Party Decor
It's much easier to build off of a theme when you know the story. Here's a refresher on the story of Swan Lake:
An evil sorcerer has cursed Odette, the Swan Queen so that she can only be human for a few precious hours between midnight and daybreak. And you guessed it-- only true love can break the spell.
One day, Prince Siegfried happens upon Odette and her flock of swans and falls in love with her. The curse is broken, and they live happily ever after.
For a Swan Lake party, sprinkle in some magic with unicorns, tiaras, swan costumes, and this swan piñata.
The Nutcracker Ballet Party Decor
Here's a summary of The Nutcracker to help you design the perfect winter ballet party:
The night before Christmas, Clara discovers her Nutcracker has come to life and is faced with an army of mice. With Clara's help, the Nutcracker prince wins the battle and transforms into a real boy.
Clara and the prince are then transported into a beautiful snowy landscape, and later a garden, where they meet the Sugar Plum Fairy. When Clara awakens, she can't be certain it was all a dream. 
A December Nutcracker ballet party doesn't have to be the usual red and green for the holidays. The birthday girl will love a whimsical pastel Nutcracker theme with a pink, mint, and white color palette.
From Tidbits & Company
Add in some glittery snow, fairies, mice, and of course, friendly nutcrackers to create a winter Nutcracker wonderland. You can find plenty of pink and pastel Christmas decorations like trees, ornaments, and reindeer in stores in November.
Ballerina Game Ideas
You could bring your guests to the ballet, but let's be honest, the kids will have way more fun playing games.  Here are some party games you can play at your ballet party:
Freeze Dance
A fun ballet-themed game like 'Dance and Freeze,' will entertain the kids. All you have to do is play some ballet music, and everyone must freeze when the music stops. Moms can join in on this too!
Scavenger Hunt
You can also arrange a 'Ballet Scavenger Hunt,' where players must find ballerina-themed items you've hidden around the party area.
Simon Says Ballet Edition
Teach your ballerinas in training the five ballet positions, and then use them in a ballet-themed game of Simon Says.
From the book Martine Raconte
Pin the Tutu on the Ballerina
Swap the traditional donkey and tail out for a cardboard cut-out ballerina and a tutu. 
Ballet Class Games
These ballet classroom games are great for young dancers. Try a few at your ballet party!
Party Food & Drinks
Time to think pink! Of course, every ballet birthday party needs a ballerina cake, but what about the rest of the ballerina party food? There are few foods that are pink naturally, so you'll have to get creative with color.
When it comes to party food ideas, think light and elegant. Mini sandwiches, fruit cups, and pastries will look cute and dainty.
For a brunch-time ballerina party, you can whip up pink pancakes for the main dish. 
Pink popcorn makes the perfect party snack, as does this pink cloud bread that has been going viral on TikTok. 
If you want more savory party food ideas, you can use beets to give any food a natural pink color. This works well with pasta, rice dishes, and even deviled eggs.
Ballerina Party Drinks
For pretty pink drinks, serve strawberry milk and/or rose lemonade. 
You can also make a copycat Starbucks Pink Drink the moms will love. All you need is coconut milk, freeze-dried strawberries, passion iced tea, a liquid sweetener, and vanilla. For a caffeine-free version, use white grape juice instead of tea.
You could create a signature 'ballet punch' and have ice water available too. For moms, some pink grapefruit mimosas would be much appreciated. 🙂
Desserts
The grand finale doesn't have to be just cake. Enchant your party guests with a dessert table spread of pink macarons, marshmallow ballerinas, and ballet slipper cookies. Make the party extra sweet and rent a cotton candy machine or buy tubs of pink cotton candy. The possibilities for pink desserts are endless!
Cupcakes are always popular and easy to serve, or a ballerina-themed cake could be the centerpiece of your food table.
From Curly Girl Kitchen
Nutcracker Party Food
If you are doing a Nutcracker theme, you can celebrate with the birthday girl's favorite holiday eats, and maybe even a hot cocoa bar. (We love this unicorn hot cocoa recipe).
A Nutcracker party dessert table might include candy canes, Christmas cookies, Nutcracker gingerbread men, and of course, sugar plums!
From Nellie's Free Range
Final Details
Music
For background music, tunes from famous ballets would be perfect, like 'Swan Lake' or 'The Nutcracker.'
Movies
The Barbie Swan Lake and Nutcracker movies are the perfect watch for a ballet-themed party.
Party Favors
When it's time to say goodbye to the ballerina party guests, provide them each with a ballet-themed goodie bag, perhaps including a mini tiara, wand, or even their own sparkly tutu.
Little jars filled with candy are also a great party favor choice. You can use mason jars with a mini plastic tiara or tiny ballerina glued on top.
Your party guests (daughters and moms alike!) will surely love the added details and elegant style of this ballet party!