Host the party of the year this summer with a Burning Man-themed party! This outdoor-festival-party at home will be one to remember.
Table of Contents
What started as a small gathering around an eight-foot-tall burning effigy on a San Francisco beach in 1986 has since become a globally recognized arts and culture phenomenon. As the Burning Man event has grown, so has the Man. In recent years, the effigy has stood over forty feet tall. 
This annual event is a communal camping experience in Nevada's Black Rock Desert. For one week every year, tens of thousands of Burners come together to create Black Rock City, an ephemeral, self-sustaining city featuring art installations, themed camps, dancing, singing, and live music.
Music festivals like Tomorrowland, Coachella, and other electronic music festivals try to emulate Burning Man with similar camps and fashion, but Burning Man remains an experience like no other.
The good news is, you can bring a bit of the magic to your friends with a Burning Man party. And we're about to show you how.
Invitations
The Cacophony Society of San Francisco became the official organizer of the Burning Man festival after 1988. They are a counterculture group with regional chapters that describes themselves as "a randomly gathered network of free spirits united in the pursuit of experiences beyond the pale of mainstream society."
The Society published these Cacophony Factoid cards, which we think are the perfect template for Burning Man-themed party invitations!
Create postcard invitations online with a photo and a couple of short paragraphs with the party details. For the finishing touch, have fun staining them with coffee!
Decorations
We may not be able to bring the dust of Black Rock City to your backyard or party venue, but we can recreate the desert vibes with decorations.
Every Burning Man-themed party needs cacti, steer skulls, colorful outdoor furniture, paper lanterns, and a collection of esoterica-- like the wild, next-level art pieces the festival is known for.
And of course, what would a Burning Man party be without your own effigy? Forty feet tall may be a bit much, but you can create a mannequin-sized or a tabletop man. 
Every Burning Man event has a theme, and there are themed camps within Black Rock City as well. You can choose a camp theme for your Burning Man party and decorate around that. 
Burning Man is also seen as a psychedelic experience, so you can also go that route and decorate with blacklight, mushrooms, hookahs, and other trippy decor.
Cost Plus World Market has the perfect style of boho outdoor decor for your Burning Man party.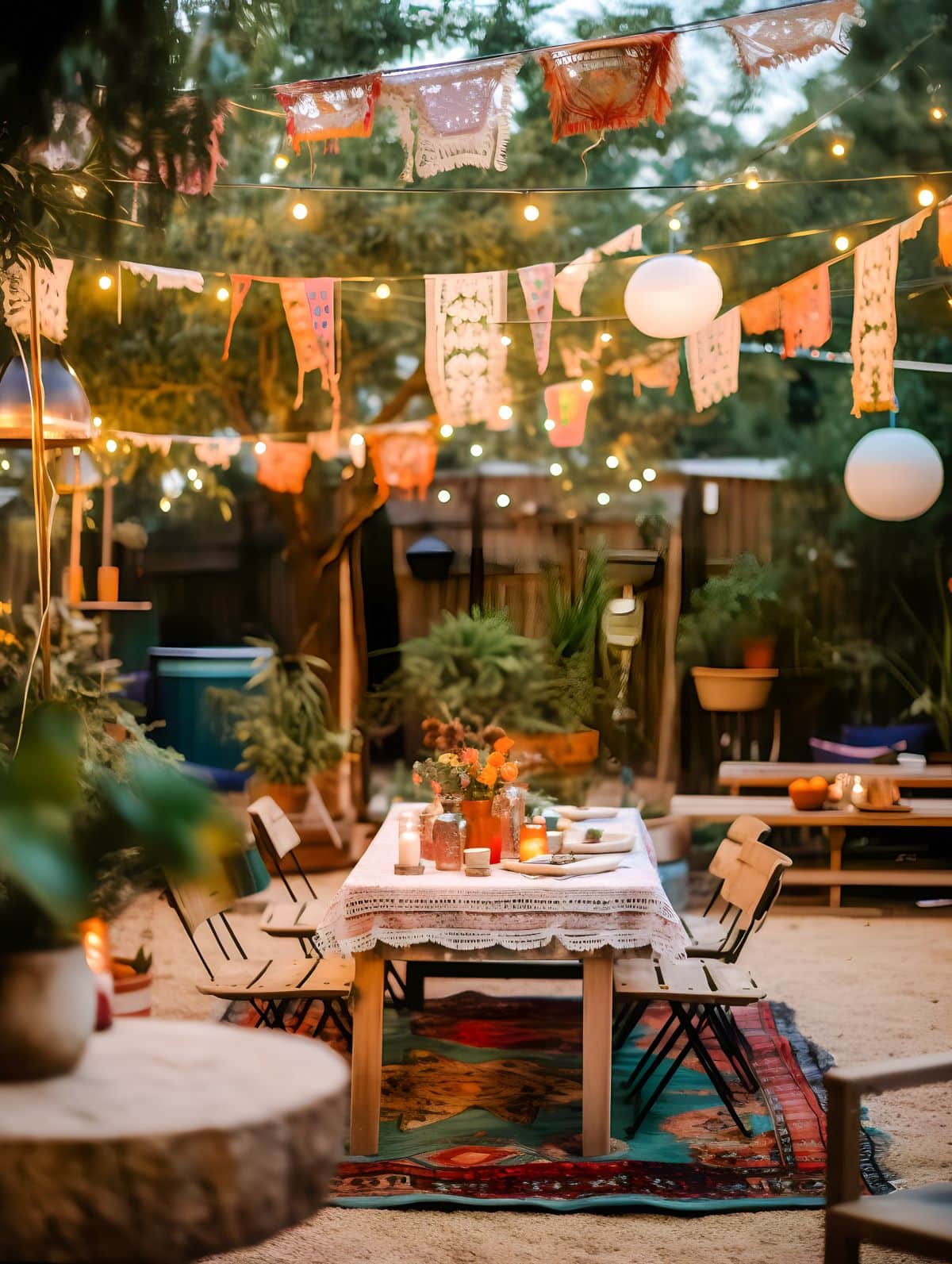 Party Food & Drinks
Like any major city, Black Rock City features cultural neighborhoods. These themed camps cook up cuisines of all types, thanks to the ingenuity and skills of the Burners who volunteer to feed their fellow playa inhabitants.
The French Quarter section of the city is a tiny New Orleans featuring French pastries and pots of gumbo. You can recreate this menu at your Burning Man party, or use a food truck like Cafe Du Monde.
There is an art car food cart called the Dust City Diner, that serves classic American diner food.
Above all, food is communal, so a Burning Man-themed party is the perfect place for a potluck. Ask your party guests to sign up to contribute something to the feast.
Here are some more Burning Man party food ideas, based on what people eat in the desert:
Spaghetti burritos: This is a dish that some Burners dreamed up one year and have been serving ever since. Yes, it's literally spaghetti in a tortilla.
Hot dogs
Wood-fired pizza
Falafel
Poutine
French toast
Snowcones
Your party venue may not be as hot as the Nevada dessert, but you'll want plenty of refreshments on hand. These summer drinks are staples at Burning Man:
Game Ideas
Art is the beating heart of Burning Man, whether it's dance, music, theatre, sculpture, crafts, or even culinary pursuits. 
Bring the experience to your party with a dance floor, craft stations, a cocktail mixing demo, a costume fashion show, improv games, karaoke, a wine and paint activity, and any other arts or crafts you can imagine. 
Crafts could include a tie-dye station, a garden rock-painting table, or a wildflower bouquet bar.
Costumes
Fun costumes are mandatory for Burning Man. The main rule for playa wear is simply, "Look hot, stay cool." Many Burners will be scantily clad in bikinis, bodysuits, and other forms of lingerie.
They accessorize with headdresses, flower crowns, fanny packs and goggles (for protection from the dust).
For costume inspiration, look to music festival goers on Instagram and Pinterest. Tomorrowland outfits and Coachella couture are both suitable fashions for a Burning Man party. Western wear is also a good way to go.
Burning Man is an opportunity to be your most expressive, free-spirited self. Whatever that means to you, dress like it. Pull out your old wedding dress or Halloween costume. Make up your own original character. Nothing is too "out there" for Burning Man!