These "Never Fail" chocolate chip cookies are the cookies of your dreams. The easy recipe makes flavorful, soft, and chewy cookies that require no fridge time and never overspread in the oven. They make great party cookies that everyone devours!
Disclosure: We may recommend products we like through affiliate links. If you make a purchase through links on our site, we may earn a small commission at no cost to you (see our full disclaimer). Thank you for your support!
Table of Contents
💭 How are these "no-fail" cookies?
You really can't fathom how soft and chewy these cookies are until you try to make them for yourself. I've made a lot of different recipes over the years, but this is the go-to cookie recipe that I know will never let me down. In fact, this is a beloved bakery recipe we made at Amycakes Bakery (we'd make dozens and dozens of these at a time!).
These cookies are everything a chocolate chip cookie should be. They have the perfect balance of sweet and salty, they're chewy with a very slight crunch around the edges, and they're packed with chocolate chips. They're also super easy to make! So, if you're looking for the best no fail chocolate chip cookie recipe, look no further!
🍪 Ingredients
To make these cookies in their entirety, you'll have to check out the recipe card. However, I wanted to touch on a few of the essential ingredients used in these perfect Chocolate Chip Cookies.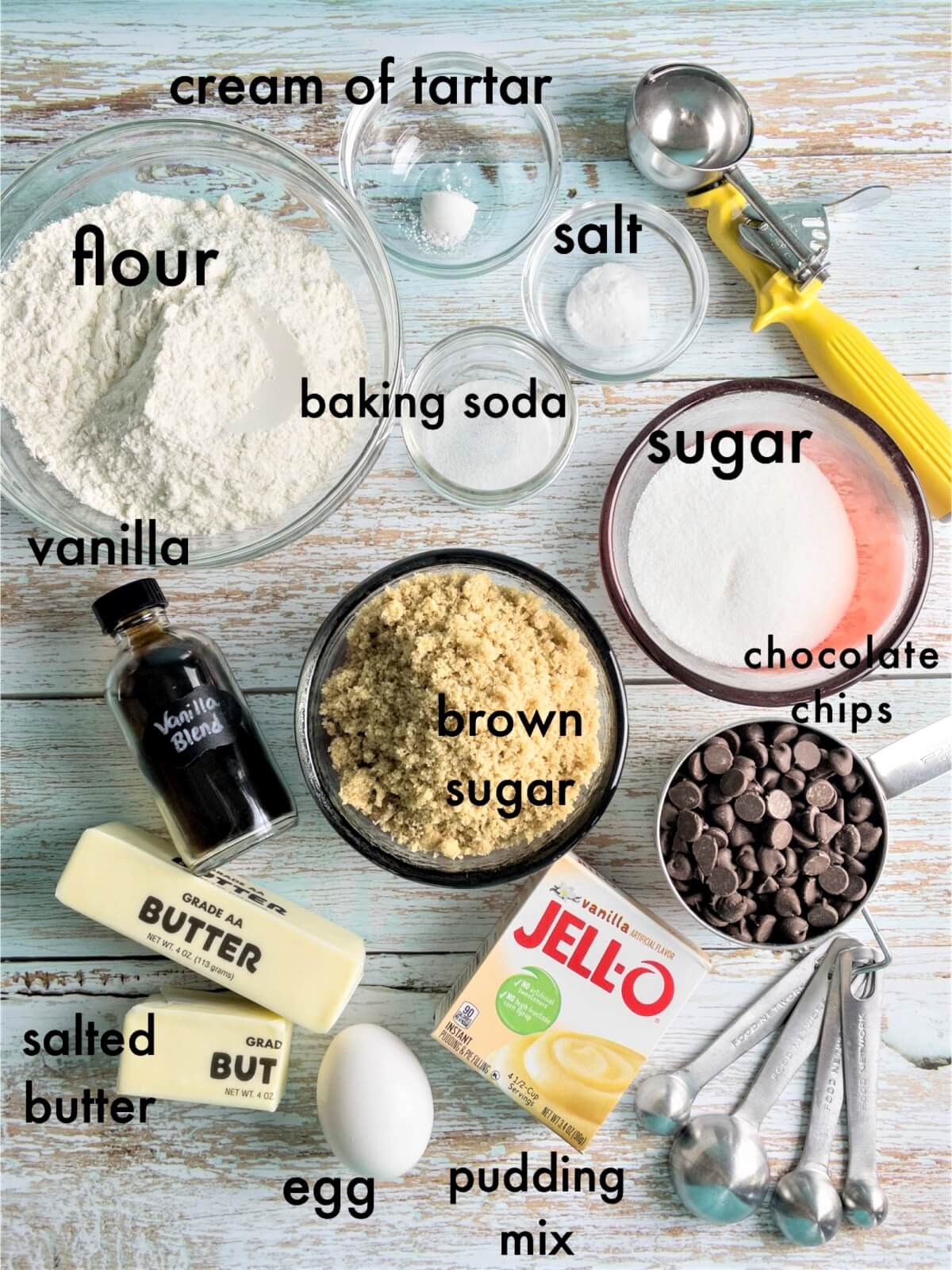 Semi-Sweet chocolate chips - Use your favorite brand of chocolate chips for these cookies; it's worth it! I love Nestle Tollhouse.
Instant vanilla pudding (the dry mix) - The secret to making these cookies is all in the pudding. This ingredient is why you can bake these cookies right after completing the cookie dough--no refrigeration time is required!

The pudding helps create a chewy and moist cookie while giving it a subtle vanilla flavor. I use the JELLO brand because its second ingredient is "modified cornstarch." Also known as Instant Clearjel, the modified cornstarch in the pudding mix thickens the cookies and allows them to retain more moisture.
Brown sugar - If you love a classic chocolate chip cookie, then you know the brown sugar ingredient is a must!
All-purpose flour - You will need all-purpose flour to help bring these chewy cookies to life!
Salt--I never shy away from salt in my recipes; it balances the sweetness from the pudding in these cookies and gives them their rich flavor.
📺 Recipe Video
This no-fail chocolate chip cookie recipe first appeared on my bakery recipe blog Amycakes Bakes, but I wanted to share them here because they are the perfect party cookie! Watch me make them in the quick recipe video below.
👩🏻‍🍳 Baking Tips
Bake the cookies on the middle or top rack (avoid the bottom rack). This will help prevent the bottoms from over-browning.
If you want thick cookies, use a 1.5-ounce cookie or ice cream scoop and press the cookie dough tightly into the scoop. You can also make smaller cookies and simply adjust the baking time.
To ensure that the cookies are soft and chewy, bring them out of the oven when the cookies look just slightly underdone. Once the bottoms of the cookies are a light golden brown and the tops have lost most of their shine, the chocolate chip cookies are done.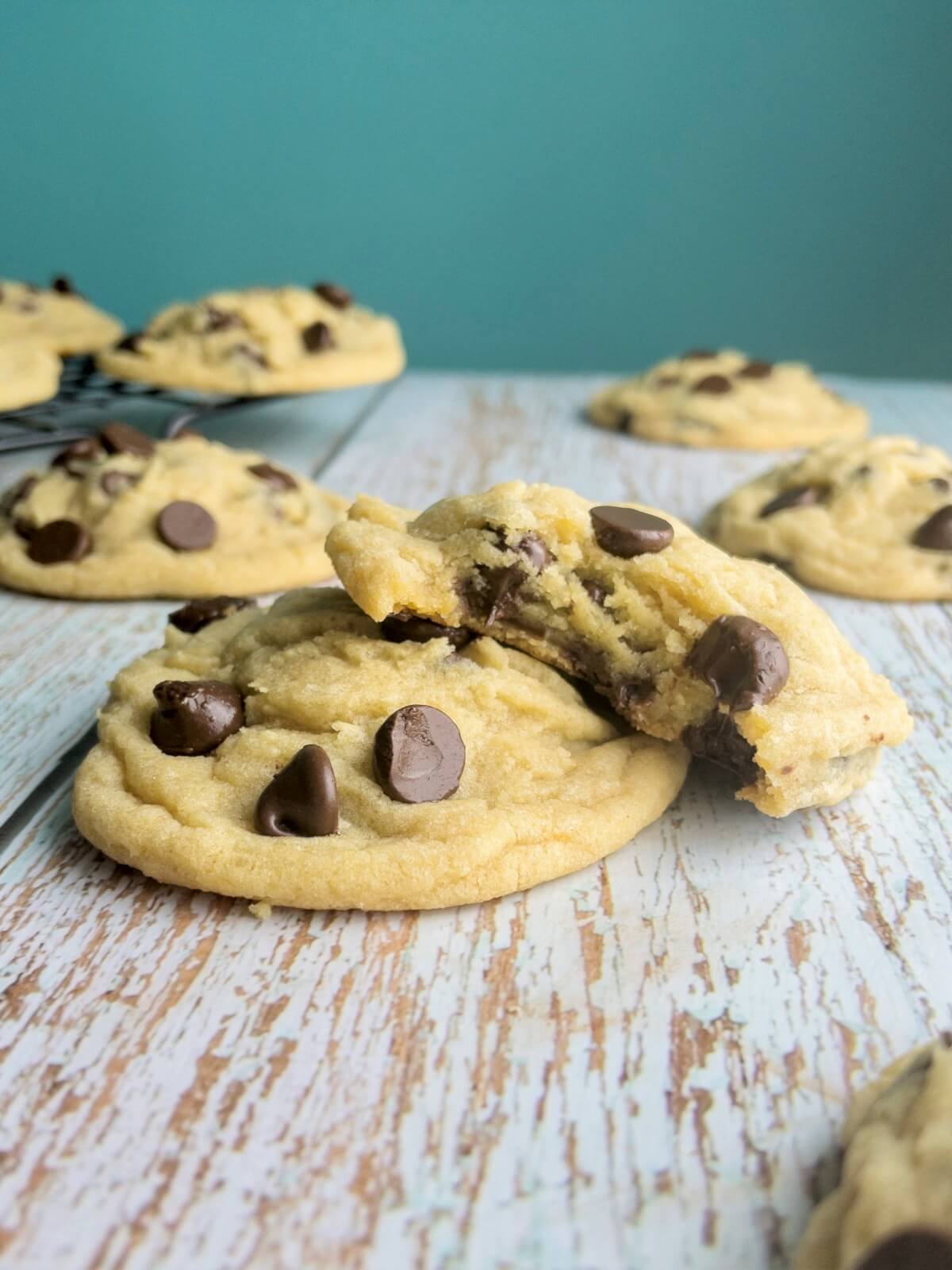 ⏲️ How to Make Ahead and Freeze Chocolate Chip Cookies
You can freeze the unbaked cookie dough after you scoop it! Store the cookie dough balls in an airtight container in the freezer, then thaw as many as you would like to bake on a parchment-lined cookie sheet. They usually thaw in about 20-30 minutes. Cold cookie dough will require a couple of more minutes in the oven.
Baked cookies can be stored in an airtight container at room temperature for 2-3 days. If you'd like to freeze them, I suggest freezing them in a freezer-safe bag or container for up to 3 months. When you're ready to eat them, thaw them at room temperature or pop them in the microwave!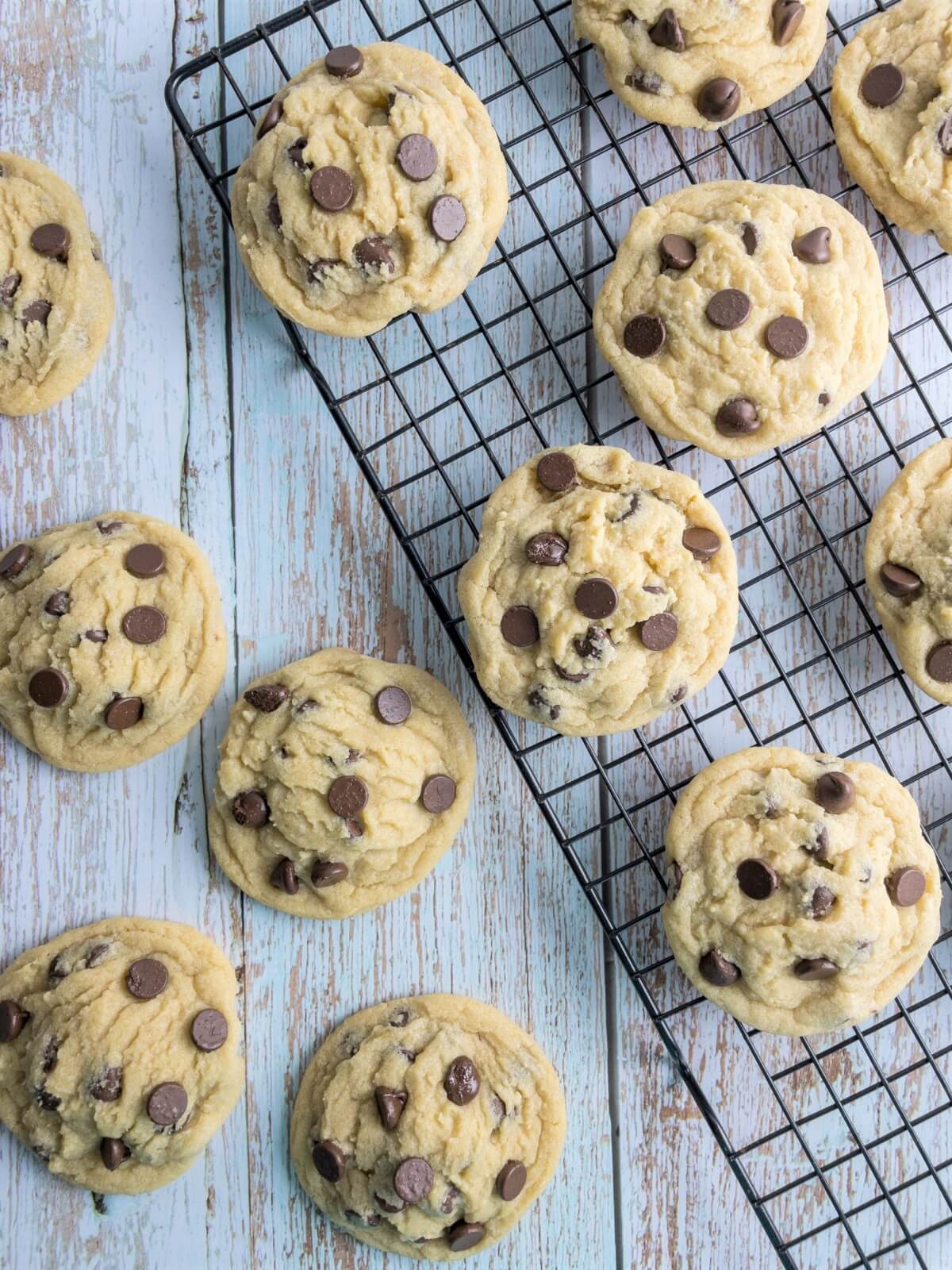 I hope you enjoy this no-fail chocolate chip cookie recipe! It makes a soft, chewy cookie that tastes like the ones you get at your favorite bakery. Once you give these cookies a try, let us know how you liked them! 
📃 RECIPE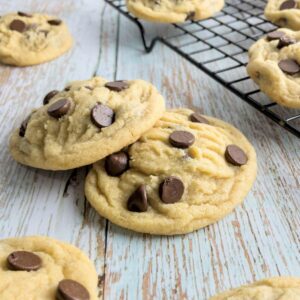 Never Fail Chocolate Chip Cookies
This easy chocolate chip cookie recipe makes flavorful, incredibly soft, and chewy cookies that require no fridge time and never overspread in the oven. 
Ingredients  
Cookie Dry Ingredients
1 ¾ cups + 2 Tablespoons (250 grams)

All-purpose Flour

-

I use Gold Medal

1

3.4 ounce box

Instant Vanilla Pudding Mix

-

the dry mix; I use Jello brand

1

teaspoon

salt

½

teaspoon

Baking Soda

½

teaspoon

Cream of Tartar

1 cup (180 grams)

Semi-sweet Chocolate Chips

-

plus a few extra to place on top of the cookies before baking
Creamed Ingredients
½ cup (100 grams)

White Sugar

¾ cup packed (170 grams)

Brown Sugar

1 ½ sticks (6 ounces)

Salted Butter

-

at room temperature--soft to the touch, but not melted

1

Egg

1

Tablespoon

Vanilla Extract
Instructions 
In a medium bowl, whisk all the dry ingredients except for the chocolate chips until well blended.

In a stand mixer (preferred), or a handheld mixer, blend the sugar, brown sugar, and softened salted butter until light and fluffy, scraping the sides of the bowl as needed.

Add the egg and vanilla extract, and blend again until creamy and well blended, scraping as needed.

While the mixer is on low, slowly add the dry ingredients. Continue to mix until it's well incorporated and no flour remains. Avoid overmixing. Add the chocolate chips while the mixer is on low.

Using a 1.5-ounce scoop, scoop the cookie dough and place the balls onto cookie sheets or sheet pans lined with parchment paper. (If you don't have a cookie scoop, you can just divide the dough into

18

equal cookie dough balls). Press extra chocolate chips into the tops of the cookie dough balls for presentation and extra chocolaty goodness.

Bake the cookies on the middle or top rack (avoid the bottom rack) in the 325-degree preheated oven for 10-12 minutes, or until the edges are set and the tops of the cookies are only slightly shiny. The bottom of the cookies should be lightly golden. The tops of the cookies may look slightly underdone but will continue to bake on the cookie sheet as they cool. Enjoy!
This post originally appeared on Amy's baking blog Amycakes Bakes.