Hosting a stress-free yet memorable brunch party or shower is easier than you might think. Just introduce our Cinnamon Sugar Mini Donuts and Coffee combo to your guests!
Imagine this: a cup of freshly brewed coffee paired with a skewered donut hole, rolled in aromatic cinnamon sugar. It's an enchanting two-in-one treat that offers simplicity and charm, sure to leave your guests impressed.
Ingredients
To create this delightful treat, you'll need:
Freshly brewed coffee (any blend you like)
Mini donuts or donut holes
Cinnamon sugar (a mixture of ground cinnamon and granulated sugar)
Skewers or cocktail sticks
Small cups or espresso cups
Instructions
Creating your Cinnamon Sugar Mini Donuts and Coffee is a breeze:
Start by brewing your coffee to your desired strength. Whether you prefer a medium roast for a balanced flavor or a dark roast for a bold and robust flavor, the choice is all yours.
While your coffee is brewing, prepare your mini donuts. You can use store-bought mini donuts or make your own.
Roll each mini donut or donut hole in your cinnamon sugar mixture until fully coated.
Once your coffee is ready, pour it into your small cups or espresso cups. Be sure the cups are cool enough to handle before moving on to the next step.
Skewer one cinnamon sugar-coated mini donut onto a cocktail stick and place it across the rim of each coffee cup. The donut should sit comfortably over the coffee, not touching the liquid.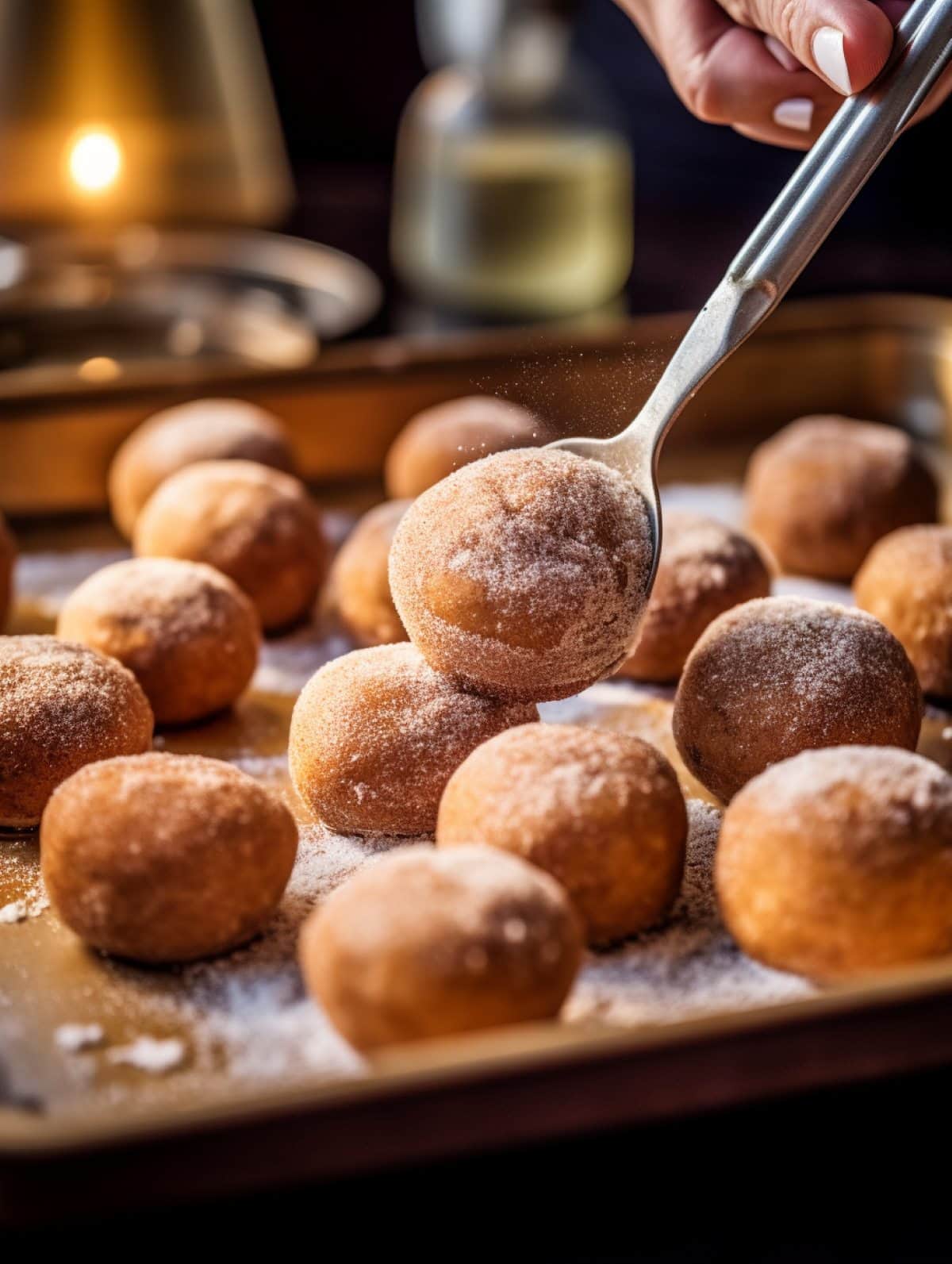 Presentation Tips
The presentation is a key element of this elegant, easy treat. You could use traditional cups and saucers for a classic look, or clear espresso cups for a more modern vibe. Adding a small, color-coordinated ribbon to each skewer can add a festive touch and tie in with your party theme.
Menu Pairings
While your Cinnamon Sugar Mini Donuts and Coffee are delightful on their own, consider pairing them with other brunch favorites. Finger sandwiches, a colorful fruit platter, or mini quiches could round out your menu nicely. Remember to cater to any dietary preferences or restrictions among your guests.
Enjoy and Relax
With this Cinnamon Sugar Mini Donuts and Coffee combo, you can effortlessly host a delightful brunch party or shower. So kick back, relax, and savor the sweet comments you'll receive on your adorable, tasty treats. Being a superb hostess doesn't mean you can't join in the fun.