Christmas parties are even more fun when you have a creative theme to go with them! We researched this year's best Christmas party theme ideas and created a festive guide for you.
Disclosure: We may recommend products we like through affiliate links. If you make a purchase through links on our site, we may earn a small commission at no cost to you (see our full disclaimer). Thank you for your support!
Table of Contents
Unique Christmas party themes are as varied as Christmas gifts and are left to the host's imagination. They allow you to spread holiday cheer among friends, families, coworkers, and kids.
If you want to put on a successful party this Christmas season, here are several ideas to make your party memorable.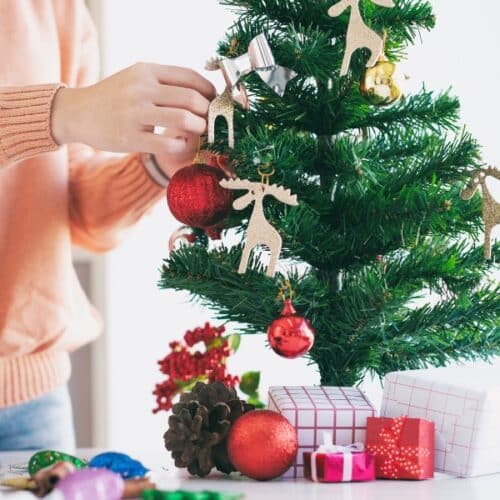 🎄 Mini Tree Trimming Party
A miniature tree decorating party is an excellent way to create something with loved ones. Let everyone adorn their own tiny tree with handcrafted holiday décor items.
Set up these small tabletop trees early so people can dive right in and start decorating away. Serve some wassail punch or hot chocolate and put on festive tunes while everyone decorates!
All you'll need are some small artificial Christmas trees (available at most craft stores and dollar stores) and lots of colorful mini ornaments. To make things even more festive, offer homemade popcorn strings, mini candy canes, and garlands.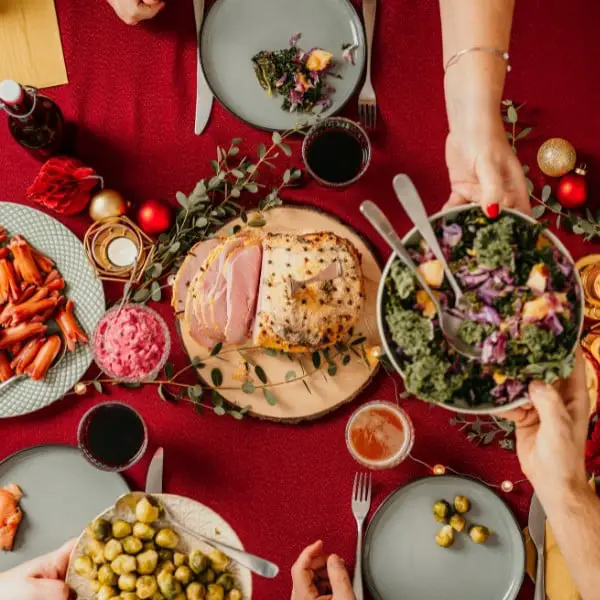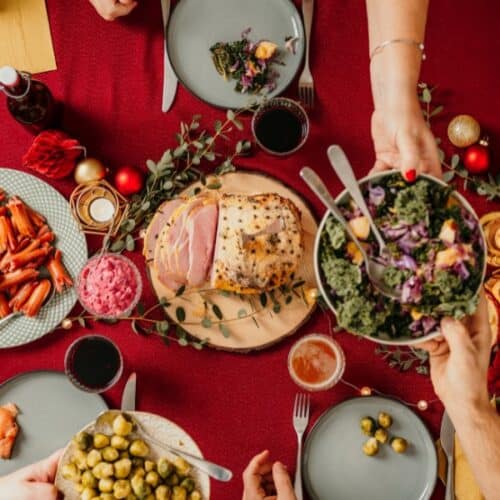 🍽️ Festive Friendsmas Feast
Christmas is all about family, friends, and good food. One of the best ways to enjoy the festive season is by hosting a Potluck dinner feast.
Each guest brings a Christmas potluck dish they are proud of. When you invite your friends, assign the menu or discuss what everyone is bringing as a group. (This way, you won't end up with duplicates of the same dish!)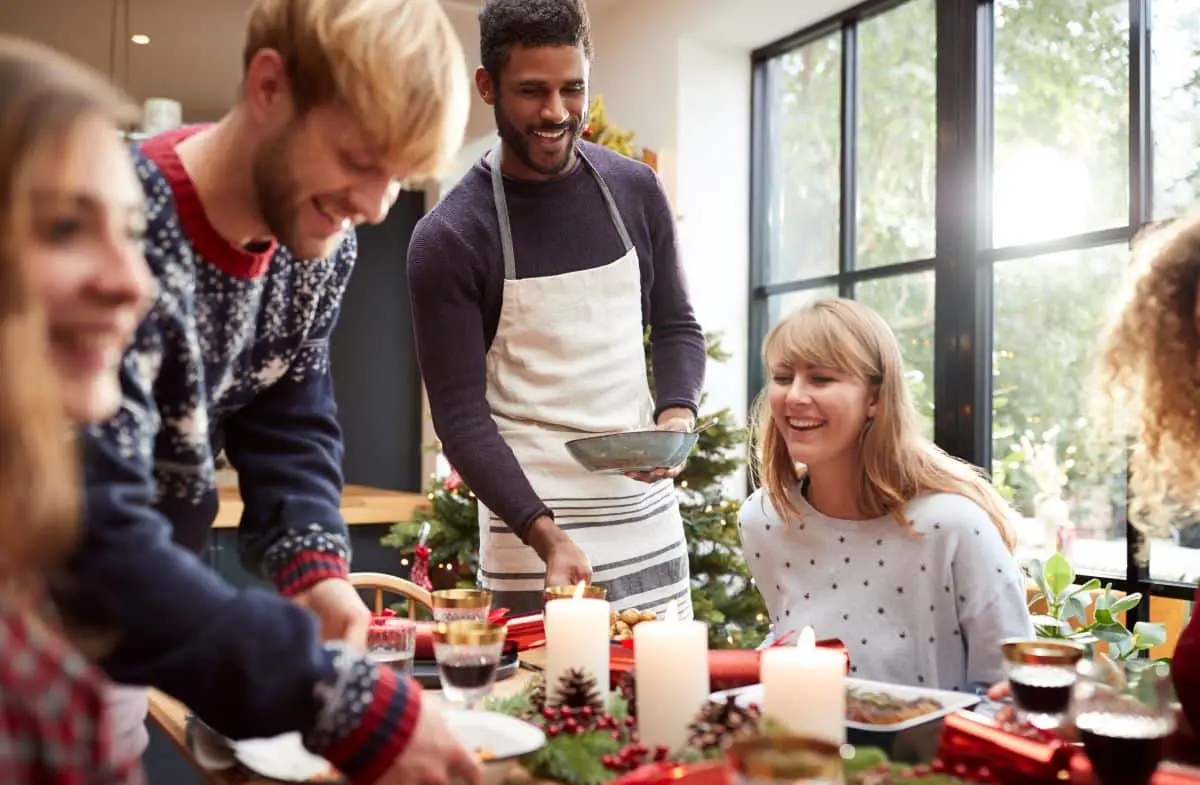 Hang mistletoe from your ceiling, light up your Christmas tree, and create a playlist with some of your favorite Christmas music.
After enjoying your holiday feast, it's time for some seasonal entertainment. Try out a gift exchange game like a White Elephant gift exchange for the perfect party.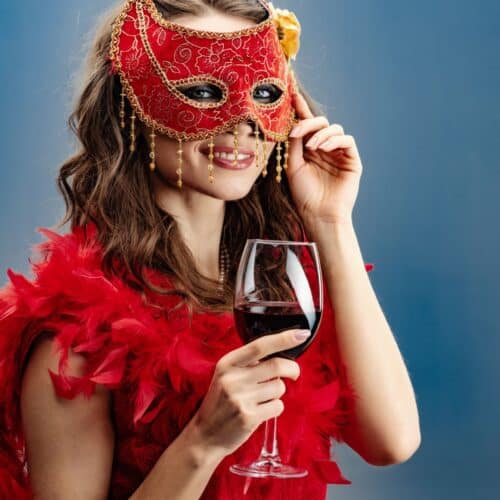 🕵️‍♂️ A Murder Mystery Party
Hosting a Holiday Murder Mystery Party is one of the most creative ways to plan an extraordinary Christmas party this year!
This unique Christmas party theme will keep your guests laughing and on the edge of their seats.
Your guests arrive in characters and are given clues to solve a holiday-themed murder mystery. Prizes can be awarded for best actor, best detective, or anyone with the most creative outfit!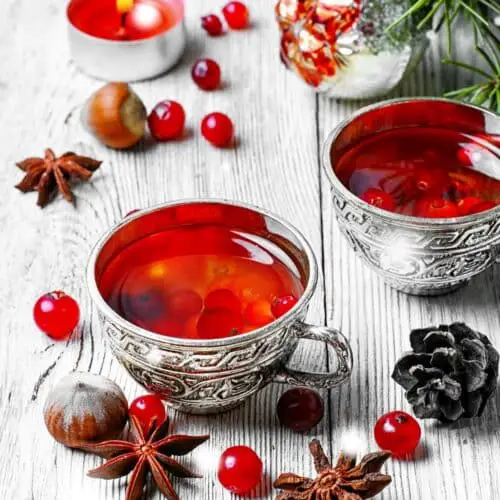 ☕ Christmas Tea Party
A lovely party theme for a Christmas gathering would be a Christmas Tea Party. Try brewing many different kinds of tea and serving them alongside cocoa or other hot drinks such as coffee or warm cider.
Make sure there are plenty of food options, such as tea sandwiches, pastries, and desserts, so that people can snack at the event.
There are many different kinds of Christmas Cookies you can serve, including English biscuits or buttercream-decorated sugar cookies.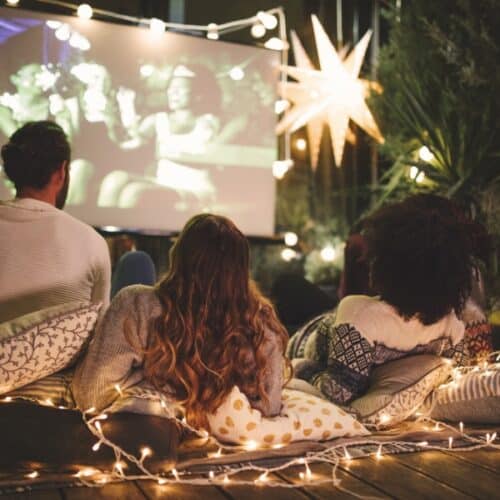 📽️ A Christmas Movie Marathon
What better way to celebrate the holiday season than with a Christmas movie marathon? Christmas stories and old movies make for imaginative themes.
Consider Dicken's A Christmas Carol or the classic It's a Wonderful Life. There are many others to choose from, like Miracle on 34th Street, Love Actually, and A Christmas Story.
If you're in a festive mood, you can also bring on some great holiday movies like National Lampoon's Christmas Vacation and Elf. Put your favorite snacks out for the viewers and start streaming!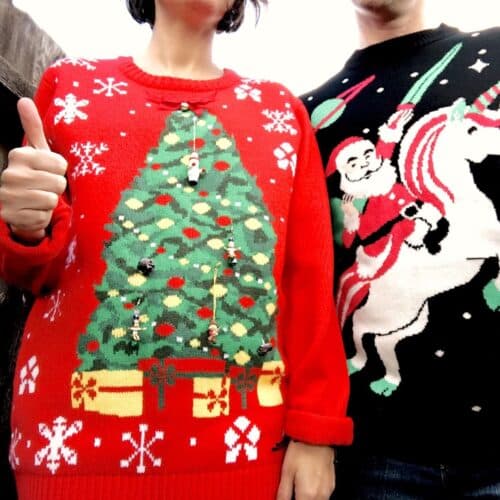 🎅 Ugly Sweater Christmas Party
Throwing an ugly sweater party is simple and loads of fun. Guests arrive in the craziest, gaudiest Christmas Sweater they can find.
If you're feeling particularly creative, scrounge up some old Christmas sweaters and cut them into squares before attaching one to the front of each guest's invitation.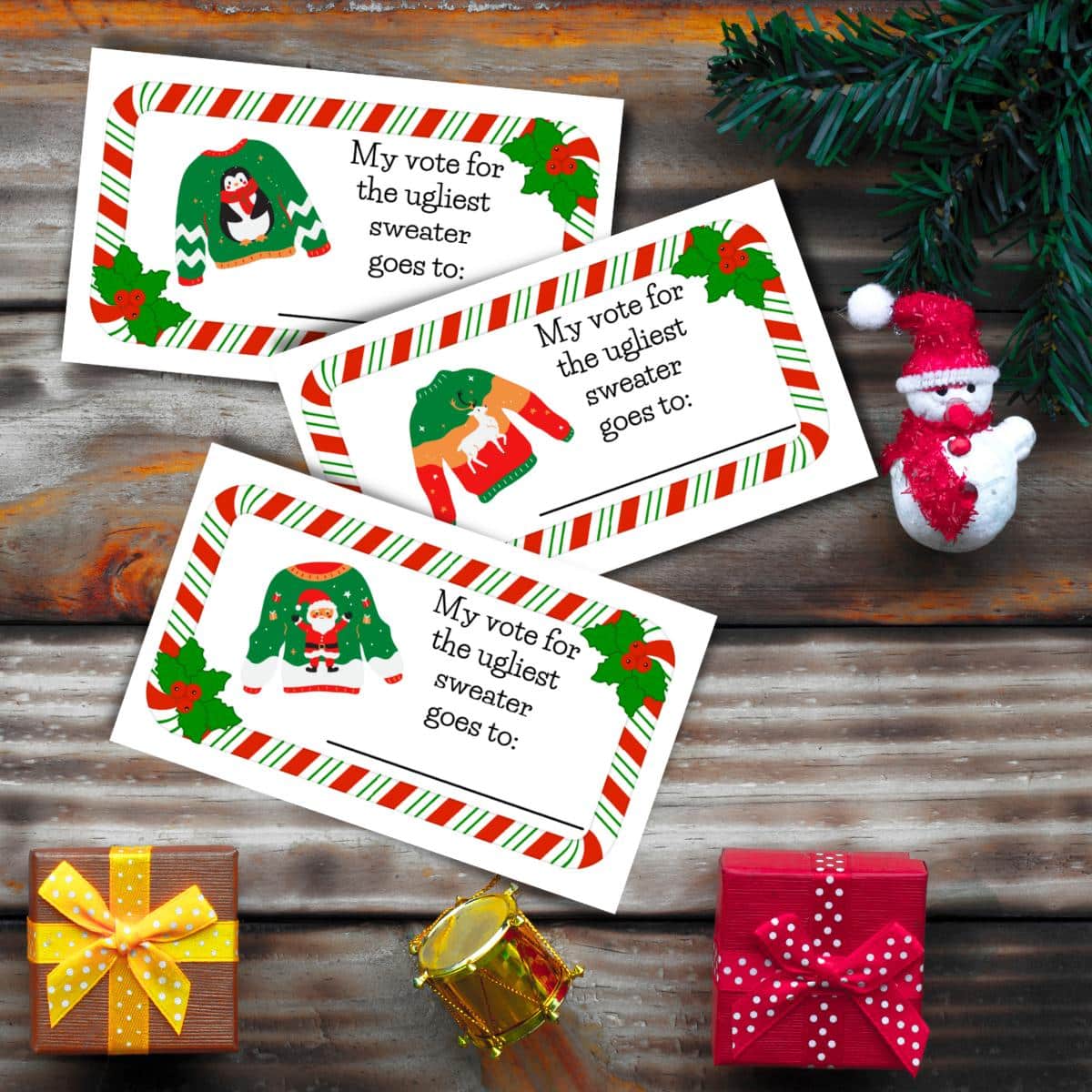 Add an ugly sweater contest for guests where they vote for which person had the ugliest sweater, and the winner takes home a prize. We have some free Ugly Sweater Christmas Voting ballots you can download and print at home!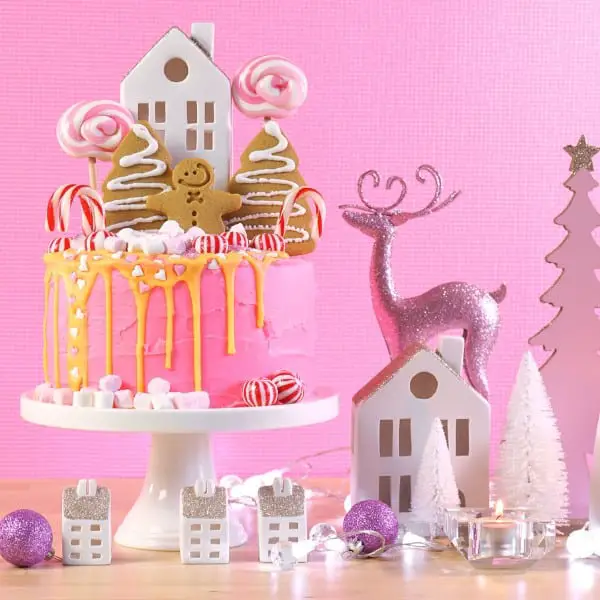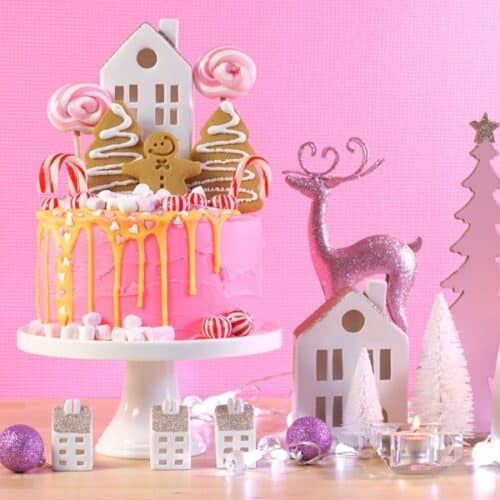 🍬 A Candyland-Themed Party
The timeless children's board game can also be a perfect backdrop for your holiday gathering. A land made of candy creates an imaginary world for people of all ages.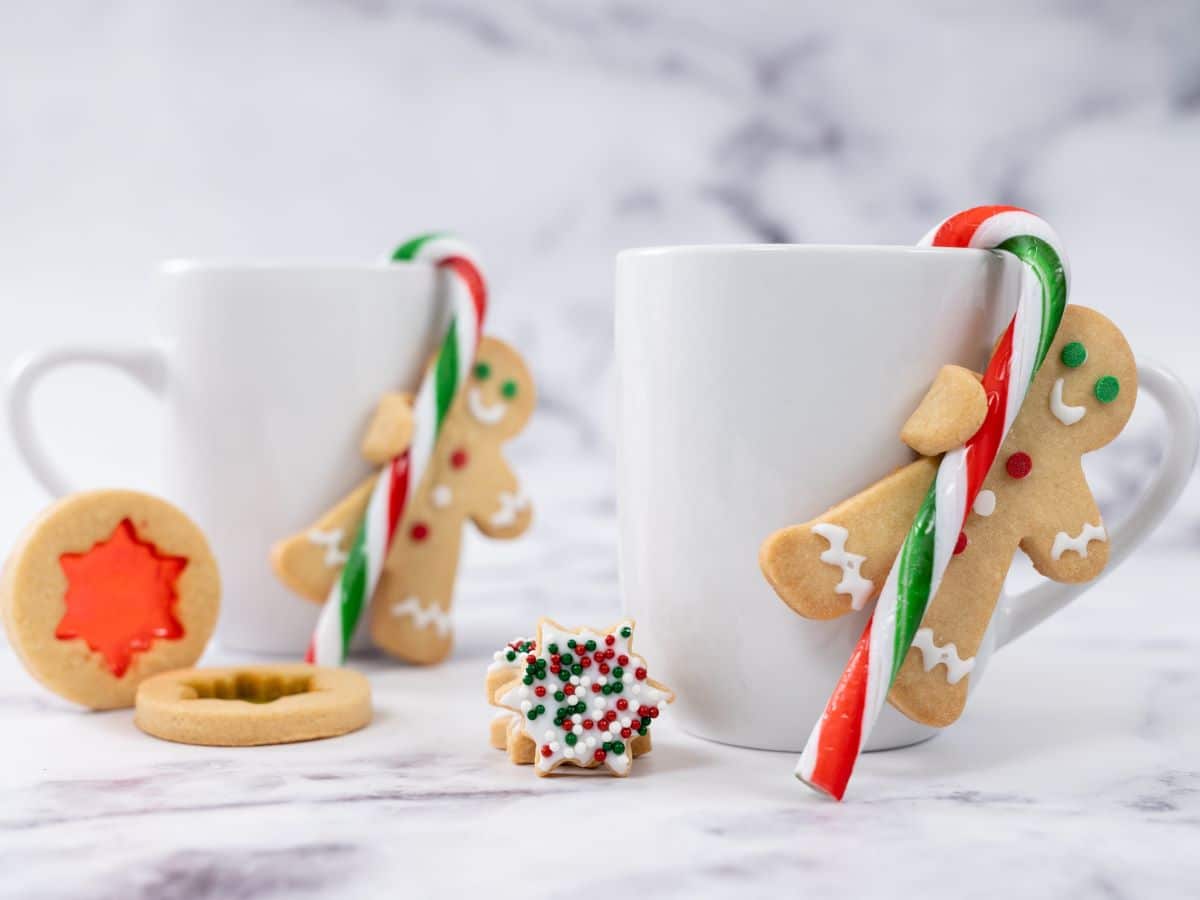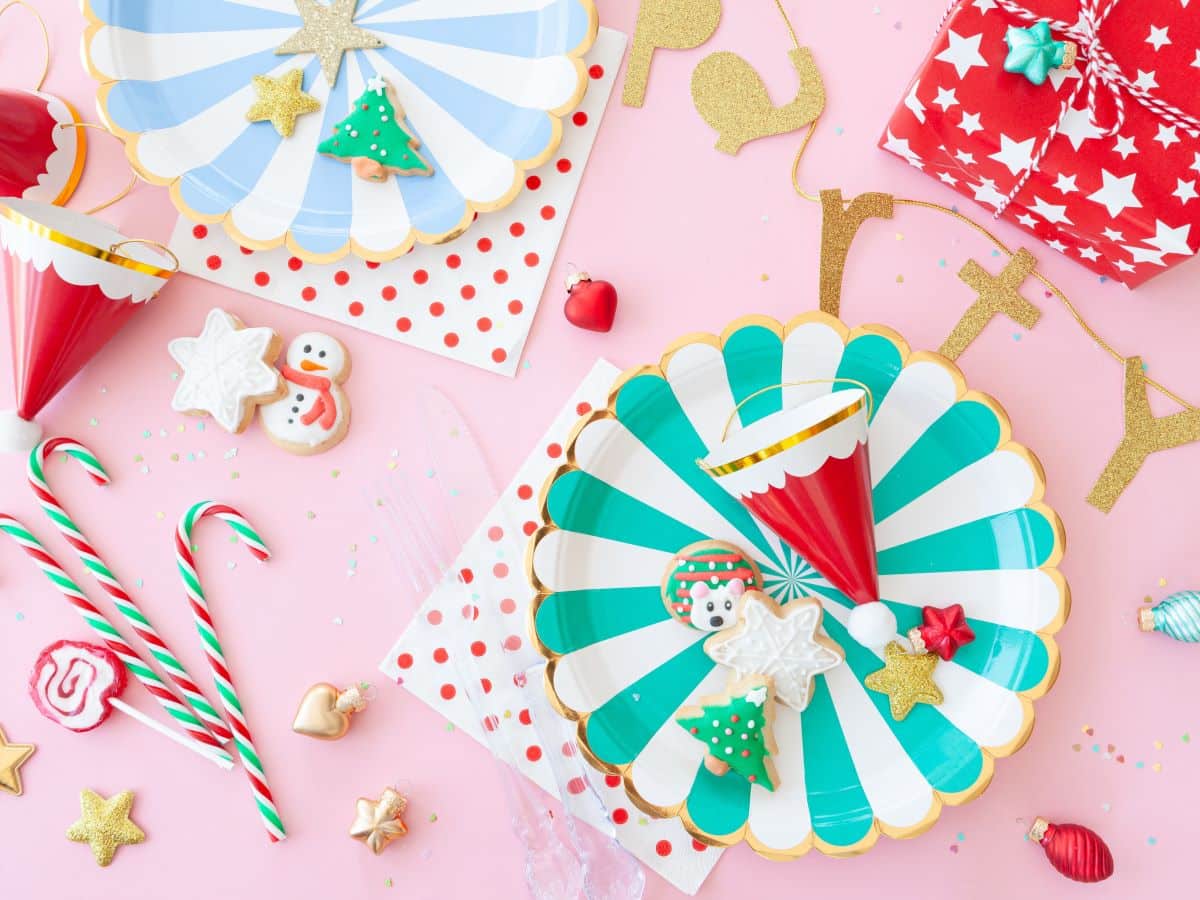 With an abundance of confectionery goodies decorating this event, you'll need Candyland Christmas decorations and some serious centerpieces-- like a big ol' tree covered in all kinds of sweet treats!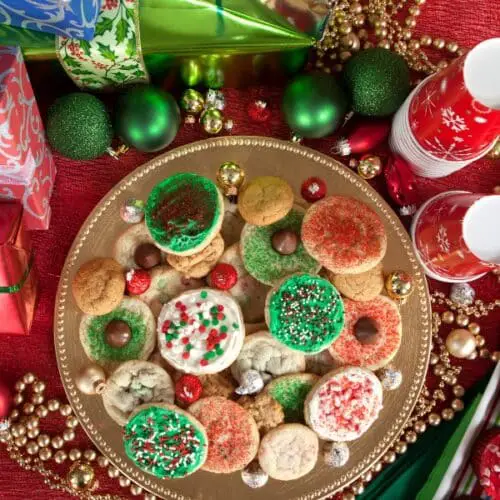 🍪 Cookie Exchange or Recipe Swap Party
One of the most popular Christmas-themed parties is the cookie exchange. They're also a great excuse to bake (and eat) your favorite cookies!
Guests bring a batch of their favorite Christmas cookies to share, like butter cookies, sugar cookies, or chocolate espresso cookies. I recommend trying some of my soft homemade cookie recipes from my former bakery!
It's a good idea for each person to bring copies of their cookie recipes so others can enjoy them at home, too!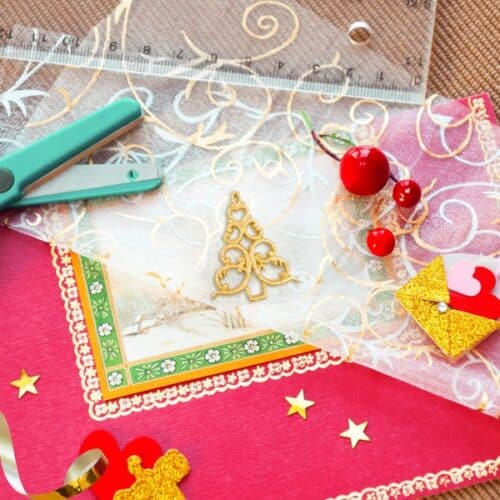 ✂️ Holiday Scrapbooking Party
Hosting a scrapbooking party is one of the most memorable Christmas Party theme ideas. You and your friends can swap cherished memories, and you'll gift them something they will cherish forever.
Provide each participant with a kit with all the scrapbook supplies needed to create their scrapbook page.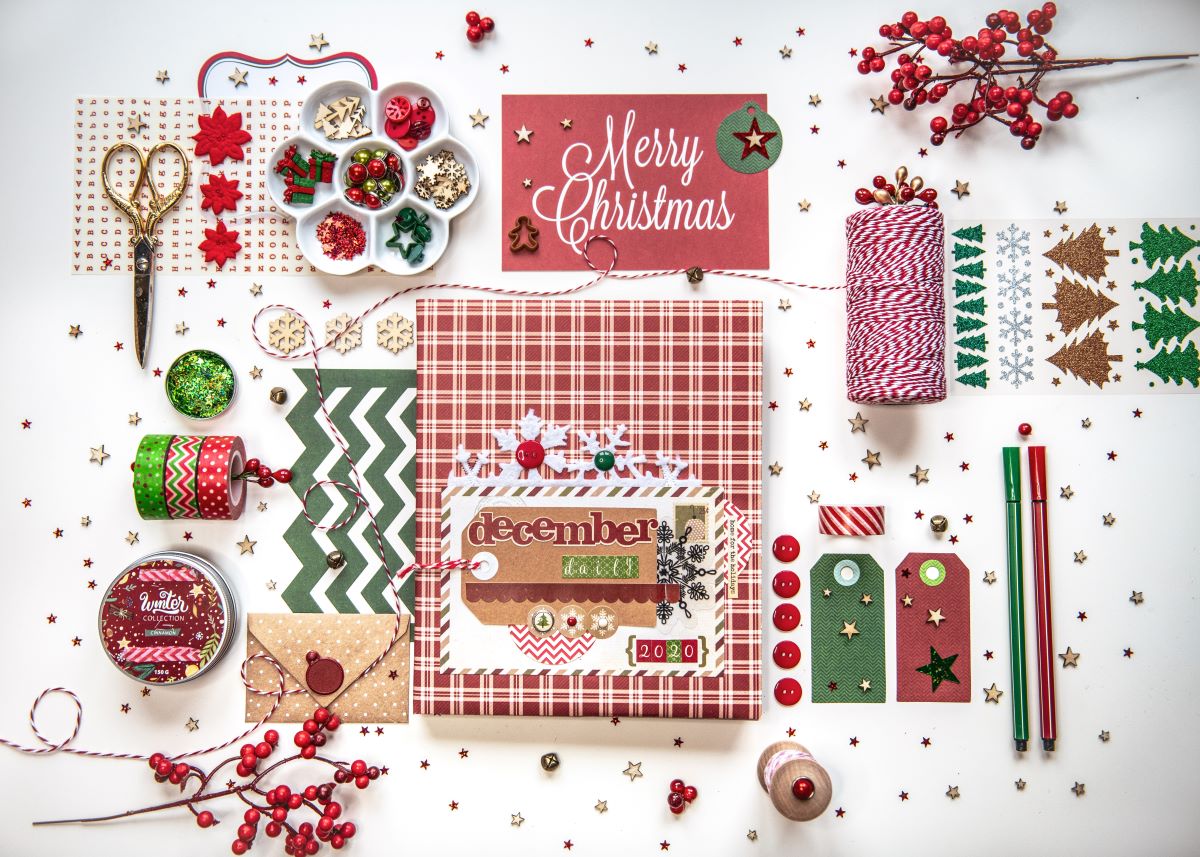 For a Christmas-themed scrapbook, you can ask guests to bring some of their most treasured photos from previous Christmases. While working on each page, you can enjoy your favorite Christmas movie and party games.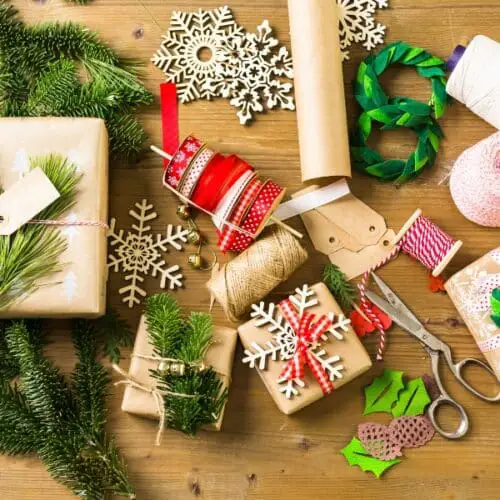 🎁 Gift Wrapping Party
It doesn't get much better than a gift-wrapping party! You invite your friends or family to come to your house and wrap their Christmas presents.
Guests can bring their presents, wrapping paper, and bows. You provide Christmas snacks, drinks, and holiday music or movies. Best of all, friends get to spend time together before the busiest days of the year.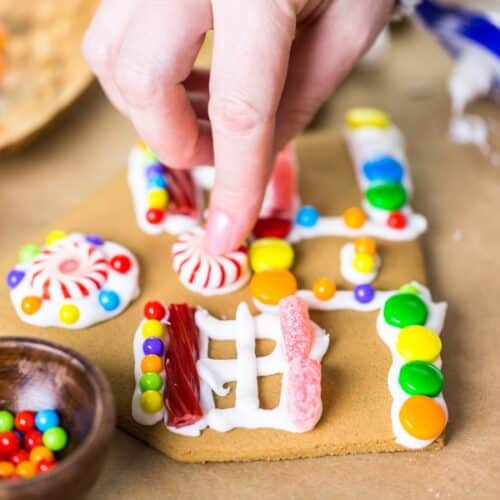 👩‍🍳 Gingerbread House Decorating Party
Decorating gingerbread houses is one of my favorite Christmas party themes because it appeals to people of all ages.
To make it easy for everyone, assemble the houses from the miniature gingerbread house kits in advance so they can set, dry, and become structurally sound before the guests arrive to decorate.
Cover your workspace with paper or an old tablecloth, then provide each guest with piping bags full of royal icing. You'll need plenty of gumdrops, candy canes, and other candies to complete each masterpiece!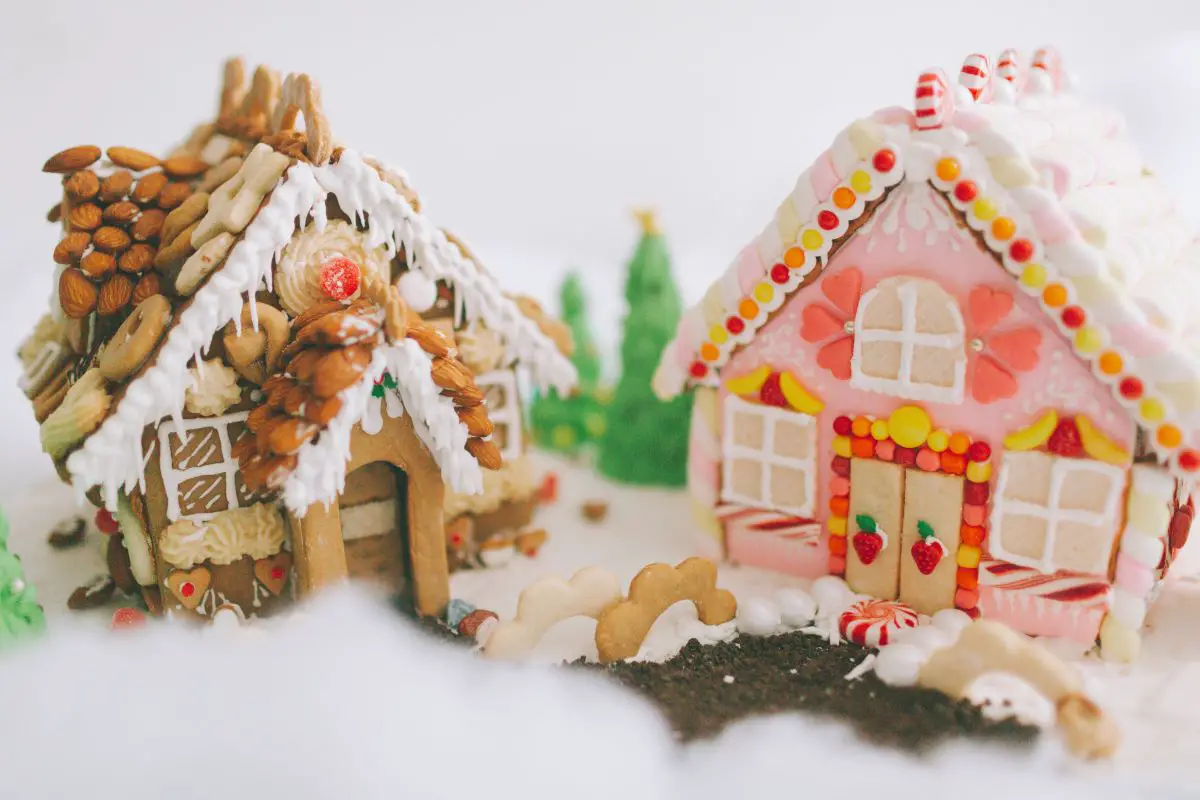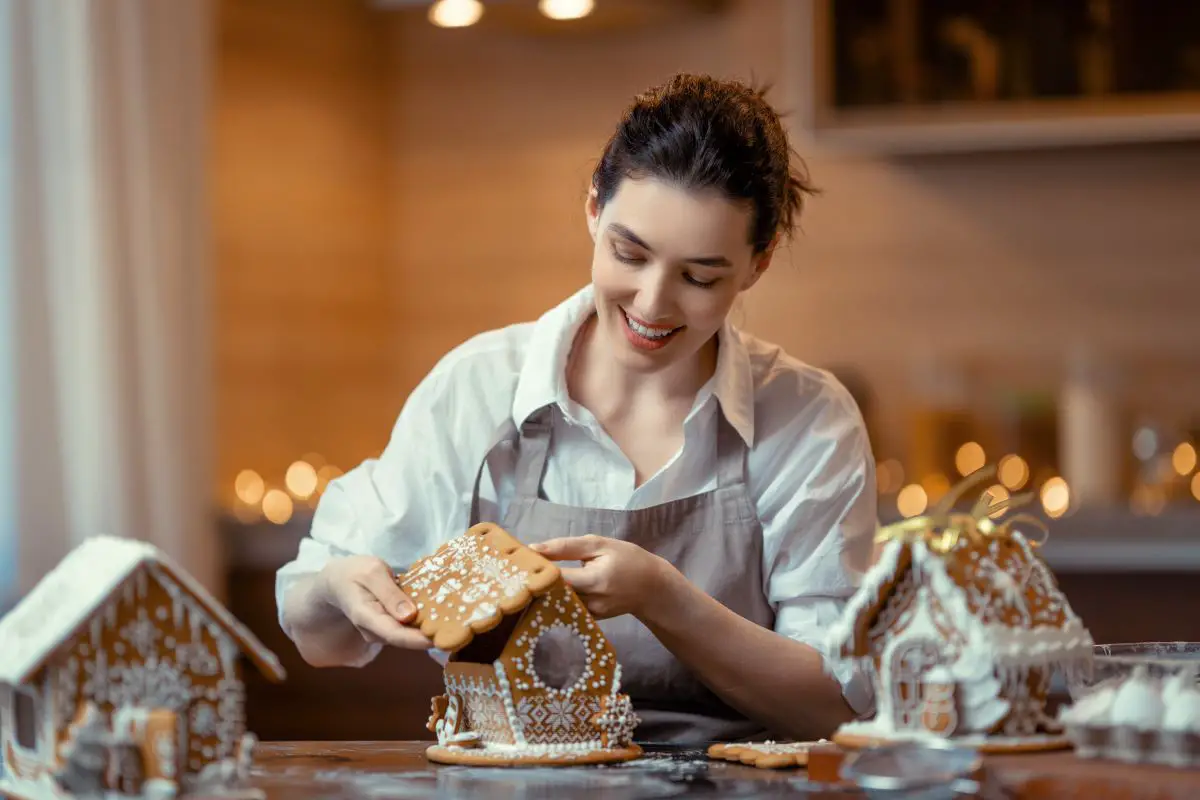 You can even make homemade gingerbread cookies shaped like Santa or reindeer.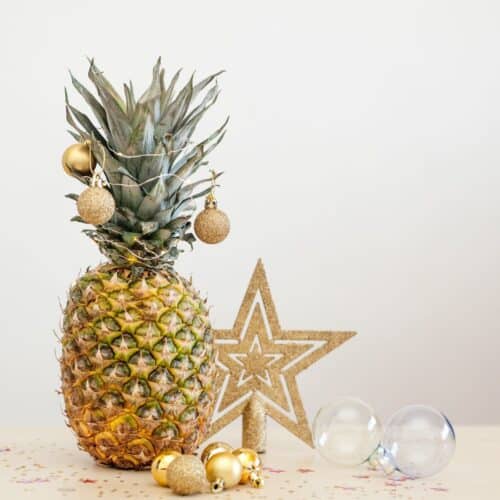 🍹 Tropical Paradise Christmas
A tropical Christmas theme helps beat the winter blues. This play on the festive season works well in areas with a lot of snow.
Even though the weather is cold outside, a tropical Christmas party creates a warm environment. Leis, palm trees, grass skirts, and other summer symbols work well amid traditional decorations.
Invite the entire party guests to wear shorts and Hawaiian shirts or change into them once they arrive. Add festive drinks such as Pina Coladas or Mai Tais to match this theme.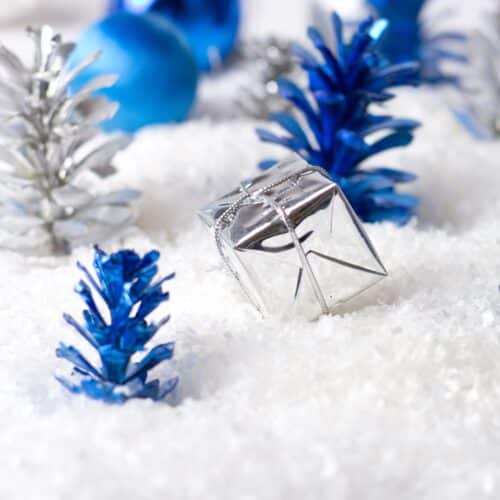 ❄️ Winter Wonderland
"Winter Wonderland" is the perfect theme for a holiday party, whether or not you have snow in your area. Dress up your house with artificial snow, white tablecloths, and silver glitter accents.
Decorate your home for the occasion by swapping traditional red and green hues for white and blue colors. Cover your table in snowflakes or fake snow.
Giant snowflakes cut from cardboard, painted pure white, and covered with glitter can be suspended from the ceiling to recreate that snowy feeling of the North Pole.
Pure white trees adorned only with pure white ornaments create an honest-to-goodness wintery feeling of coziness and warmth. You can also go all out and make snowmen cookies or coconut cream cupcakes.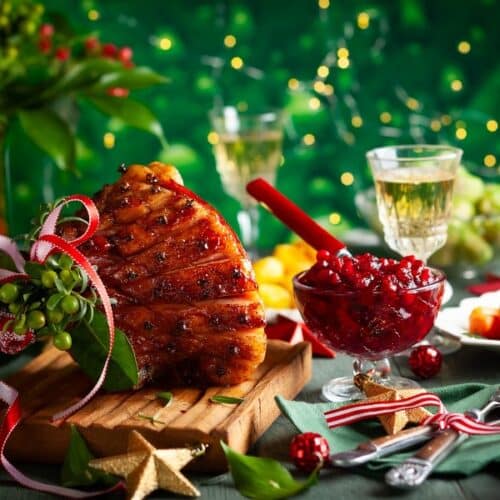 🌍 Old-fashioned English Christmas Party
Some of the best Christmas party themes focus on countries and cultures, such as parties with a European theme. Look no further than an old-fashioned English Christmas!
Start with some traditional British Christmas dinner dishes like beef wellington or Yorkshire puddings; they're sure to hit the spot! And don't forget some English Trifle for dessert and traditional drinks like mulled wine.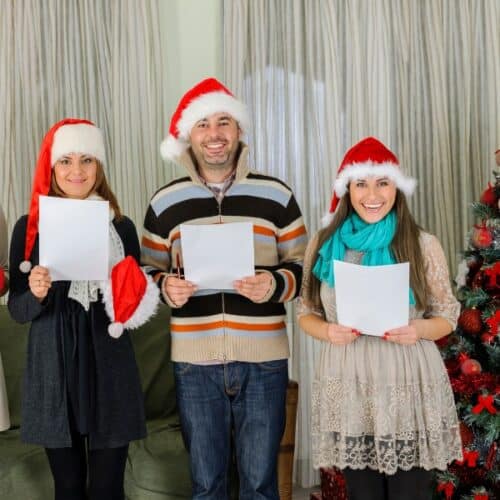 🎵 Caroling Party
Bring your friends and family together for a night of caroling and song with a Caroling Party. Deck the halls with boughs of holly, ivy, and mistletoe!
Put on fun winter hats, scarves, and gloves to keep you warm while you sing Christmas Carols together around the neighborhood!
Consider decorating old-fashioned lanterns with paper snowflakes or holiday string lights and carrying them as you carol.
Giving your Christmas party a theme is a great way to create a more festive mood and get everyone into the holiday spirit. This event structure makes it easier to have fun while spending time with family members and loved ones during the holidays.
And the best holiday themes provide an exciting twist for an unforgettable winter season! If you enjoyed one of these Christmas party theme ideas, let us know in the comment section below!